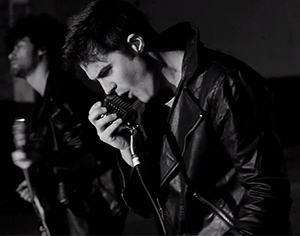 His  new single "VAPOURS" is set for release this summer, and has just been premiered by GARY CROWLEY on BBC RADIO London. With a chance to see him play coming up in Brighton this July, XYZ catch up with London singer-songwriter Robin Romei …
Hi – what have you been up to today? What have we interrupted? 
Hey! I've just been in town trying to create some traction around the music and the new single release. It's been slowly getting exposure and national airplay so that's positive. I'm excited to see how the campaign will develop.
Tell us about your journey into music, what influenced your progress into a career in the music industry? 
It started when I was in my teens and started playing the guitar and singing in bands around Brighton. I think you know after a while what you want to be musically and I liked the idea of being a front-man. When a lot of the projects broke up I began to record in my bedroom, as many do nowadays, and decided to do it under my own name. I promoted my music over Myspace and I reached the unsigned chart. It was an incredibly powerful platform and it made me connect with a lot of people who were interested in my music so that gave me the drive to keep going with it.
I continued on that path, and then for a while I put together a three piece band and played most of the venues around Brighton in 2010. We played a few festivals at that time and also went over to America to play some shows. That was a great period. By this time the Myspace community had disappeared I spent time working on writing for other artists and collaborating as well as playing music.
Then I decided to get back into performing my own material and went to get some tracks properly recorded and sought the services of a top producer, Adrian Hall. We recorded a couple of singles for general release at the end of 2012 and released the last single in 2013. The new single "Vapours" will be out on July 7 2014.
How would you describe your music for those yet to have listened? 
It's definitely British at the heart with a hard rock backbone; there are touches of electronic music in there too. I still very much try to follow a pop formula, and try and put the hooks in there-  but I'm trying to make the lyrics say more than the average 3 minute pop song.
You've previously toured Europe and the U.S, how do the crowds differ over the pond? 
Every crowd is different, regardless of where you play. When we played in California we were a lot more electro, so it was a different atmosphere. The later shows have been more rock based and to be honest I prefer the crowd's reaction a lot more in that environment.You have a novelty when you are in America though, especially as a band, and that comes out in your performance.
You've performed at festivals, how does your approach to a festival performance differ to a venue stage show? 
I am sure everyone has a different opinion but for me they are like Chalk and Cheese. Smaller venues are a lot more about crowd interaction- I like to create dialogues with specific people in an audience. Festivals are different; you almost conduct people.
When you think in a live venue everything is contained, people are pretty much solely focusing on the band. In Festival environments you have people who are just having a great time from the off so you want to bring them into your adventure for an hour or so, and channel their feel-good energy.
What's the last festival you went to, who did you check out?
I've not been to a festival without performing at one for a couple of years,  I did go to TGE this year; Peace were brilliant!
Who were / are your musical influences? Who inspired you?
I think bands like The Cure made a big impact on me as I got slightly older, more because they had connections with Crawley and The South East, but I'm not sure I ever idolised anyone. For me as an Artist in all forms David Bowie is unsurpassable. I take influence from a great deal of people and I'm always listening and learning.
Best on-stage moment so far?
There have been some great shows, and in 2013 we played a really good show in the Spice of Life in Soho- but one show I always will remember was from 2010. We played a Show in The Providence, and I was talking to a girl called Katie present in the audience between songs – having a conversation that everyone could listen in on. It was quite surreal. I went out in the crowd and stood on speakers and everything, I really liked that venue – RIP The Providence. In the end we changed the lyrics of one song, Effy, to Katie. That was a pretty good, the encore afterwards was great too 😉
Most exciting career moment so far?
I love the buzz that goes around with a new release and I think national airplay is always exciting, Frank Skinner championing the music was also a very big moment for me.
Tell us about your latest release "Vapours", how does it compare to it's predecessor "Effy"?
Vapours was a lot more enjoyable in every phase then "Effy" was, both writing and performing wise. "Effy" was in the back catalogue for a while, written when I was younger, so by the time it was officially re-recorded we had played it live for a long period and it wasn't as fresh when we were in the studio. It wasn't as current when we recorded it as well so I didn't feel it was as well received as it could have been if it had come out earlier. I felt it was catchy but I longed to get away from the electronic side of things and start adding some real human elements to the music.
Writing those riffs on "Vapours" was so much more organic. It was written on a guitar and just felt really fun to play. In the studio there was a lot more human involvement and there's more texture in the track due to that. There are more grunge influences and it feels more current.
What's next for Robin Romei? 
I'd love to record an album at the end of the year, with the inclusion of "Vapours" and the B-Side "I Can't Wait" alongside 6 newer songs I am developing. Realistically it may just be another single release but I'm hanging in there with it and I hope that one day I will have the opportunity to properly record my back catalogue of music as well as newer creations.
When's your next show near Brighton? 
I'll be playing a homecoming show at The Prince Albert in Mid July with a run of shows across London and other parts of the UK around that.
Single "Vapours" is out July 7th.
For more information about Robin Romei visit: