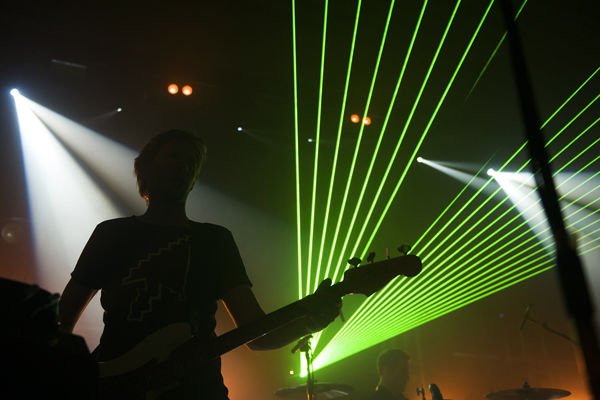 Press release:
The fifth annual The Great Escape music convention and festival was wrapped up in style on Saturday night with an electrifying career-spanning late-night set courtesy of dance legends Groove Armada, who played to a packed out Corn Exchange audience.
A record-breaking 16,000 ticket buying fans and music industry executives descended on the UK's premier South Coast seaside spot for the event's landmark fifth birthday celebrations to check out over 300 of the most hotly-tipped up and coming acts from around the world playing at over 30 venues in and around the centre of Brighton, as well as panel discussions and talks from some of the key players in the global music business (still one of the UK's biggest export industries). As well as their scheduled venue appearances, bands also made impromptu appearances in just about every nook and cranny throughout the daytime in Brighton with acoustic-ska act The King Blues taking things to a whole new level by playing a series of truly unique shows in the sewer system under Brighton Pier – a world festival first!
Thursday's music highlights included newcomers Violent Soho and Funeral Party playing Relentless street gigs in the sunshine on the Brighton seafront to fervent crowds, hotly tipped Japanese four-piece Bo Ningen, fast rising New Yorker Darwin Deez and musical royalty King Charles who all made a strong impression, plus local hometown heroes Blood Red Shoes tearing apart the stage at Drowned In Sound's showcase at Revenge, while Eighties Matchbox B-Line Disaster created carnage at Gaymers' Hectors House. Later that evening Floridian indie rock outfit Surfer Blood graced the stage before a very special surprise guest appearance by The Cribs (probably the UK's most important and invigorating guitar band operating today) at The Corn Exchange which saw the NME hosted venue packed to the rafters. Elsewhere These New Puritans brought their thunderous sounds to a capacity crowd at Audio while Goldheart Assembly entertained the fans at Terraces with their folk-tinged psychedelia.
Friday saw BRIT Critics' Choice Award winner Ellie Goulding battle it out with Everything Everything to pull in the biggest crowd of the night and Wild Beasts' return to the festival two years on to play an awesome headline show at Uncut's Pavilion Theatre following an incendiary set by Brooklyn's Fiery Furnaces.  Wichita Recordings' 10th anniversary celebrations reached The Great Escape with a mighty showcase of their acts at Life, topped off with a stunning set by acclaimed hometown nu-folk act Peggy Sue.  Earlier in the day, Relentless Street Gigs by Japanese Voyeurs and Midnight Beast had sizeable crowds moving in the sunshine whilst fast-rising LA four-piece Warpaint continued their set with an impromptu acoustic performance outside on the street to cheering onlookers. Sunderland's Frankie & The Heartstrings were the young buzz band on every in-the-know music industry executive's lips at this year's The Great Escape and they headlined the NME Stage at Horatio's (on the end of the pier) to a rapturous Friday night party crowd whilst their friends (and fellow Mackems) The Futureheads made a surprise appearance at Audio courtesy of Levi's® OnesToWatch®.
The same evening saw hotly tipped starlet I Blame Coco, electro popsters Chew Lips and synth duo Hurts all draw big crowds, as did a showcase party at Fortune Of War courtesy of BBC Radio 1 DJ Rob da Bank's Sunday Best record label (which boasted south London newcomers Sound Of Rum, David E Sugar and world champion human beatboxer Beardyman as well as setting a possible world record for most helium filled balloons ever seen in a single venue), but it was Delphic who capped off an incredible day drawing a rapturous reception at The Corn Exchange with their late night set of dancefloor fillers.
Saturday again brought blazing sunshine as festivalgoers basked in the luxury of even more great music courtesy of a daytime Aussie BBQ at Digital on the Brighton seafront with Blackchords, Hungry Kids Of Hungary, Bluejuice, teenagersintokyo, Bridezilla and Dappled Cities, a showcase of the finest new acts that Great Escape 2010 country partner Australia has to offer. Welsh one-woman whirlwind Marina & The Diamonds wowed a stuffed to the gills Concorde 2, whilst Canadian indie-rock collective Broken Social Scene played one of the weekend's most anticipated sets at The Corn Exchange.  Brighton's own Esben And The Witch sprinkled their dark and frosty fairytale magic at The Duke of York while at the other end of the musical spectrum drum'n'bass speaker worriers Chase & Status were rocking a capacity crowd at The Dome.
Watch this space for details of The Great Escape 2011 when Europe's leading festival for new music returns to the Brighton seafront for a sixth consecutive year – 2011 dates and Early Bird ticket details will be announced at the end of this month.
Photography credits (Groove Armada): Emmest.  Keep an eye on the XYZ website and in the next issue for all our photos and reviews!