Ghost Town's Short Film Night @ Sticky Mike's Frog Bar, Wed Dec 12
Ghost Town's Short Film Night @ Sticky Mike's Frog Bar, Wednesday December 12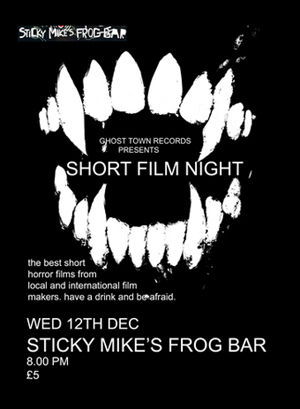 The latest short film night to creep into Brighton brings you the best in new short horror films from across the wide and wild world.
If you've got the bottle for it you can sit through over 100 minutes of new horror, and if you don't you can get up to the bar and buy one.
Vote for the films you enjoy the most and help to Ghost Town Records' new horror website: 
ghosttownrec.com
Get sticky with fear at the Frog Bar this Wednesday.
Films shown include: Emilie, The Killing Joke, Terrifier, Tub, Tarot, 38:50, The Cookie Monster Project, Just A Car Crash Away, and Blinky.