SOLSTICE: Jouis, Dark Patrick, Time for T + others, Green Door Store, June 21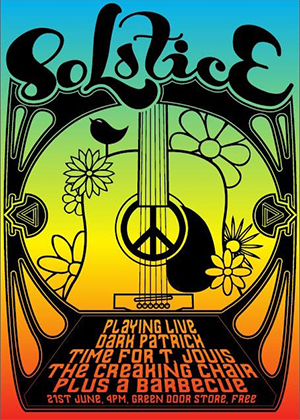 This Saturday, the annual tilt of the earth will bring the northern hemisphere of the planet closest to the sun. It's the longest day of the year, and what better excuse to have a free all day long music extravaganza?
Solstice will bring together some of Brighton's most colourful and entertaining acts to take you out of this world for a day. Five-piece psychedelic prog-rock outfit Jouis are set to provide a good dose of 60s sunny afternoon vibes. They're about to head off to Glastonbury, but they promise to 'open your mind, loosen your limbs and spirit you away to new lucid dimensions' before they go. Taking you further down the rabbit hole, Dark Patrick's fascinating assortment of instruments and languages won't fail to astound. But a sure highlight of the day will be local favourites Time for T – with influences and members from around Europe, their unique brand of percussive tropical-folk always brings a smile to the face and an uncontrollable twitch to the feet. A variety of acoustic acts will intersperse the bands, and they'll be firing up a barbeque outside!
June 21, 4pm.
Free
facebook.com/events
facebook.com/jouismusic
facebook.com/timefort
facebook.com/darkpatrickband
By Rowan Doff