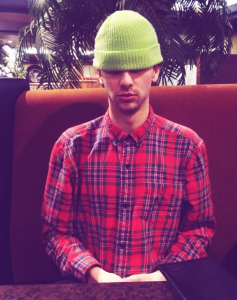 From the snowy regions of Alberta, Canada comes 23 year old pop artiste Travis Bretzer.
Laying down shades of folk, pop, blues and country with lo fi distortion, echos and bends, Bretzer creates a playful, multi-stylistic, jangly guitar driven indie fusion, run through with the hazy nostalgia characteristic of dreamy shugaze.
With a mini tour of the south of England this Autumn, and a stopover at a festival in Hamburg (Reeperbahn), Bretzer brings his pseudo-vintage sounds across the Atlantic to the Green Door Store courtesy of SoRo Live and Be Nothing promotions.
His debut 5 track EP "Making Love" (released July 9 this year on Mexican Summer/Rough Trade) was preceded by a double A-side "Hurts so Bad/Billy and I" released May on Cool Delta. Bretzer's tunes are founded on the bare jangly guitars of the Smiths, suffused with the upbeat energy of quirky 80s bands such as Orange Juice with timeless, wistful hooks and lyrics, reminiscent of half remembered summer holidays, polaroids and flickering home movies.
Supports include homegrown indie rock set up Teardrop Factory, with shugazey scuzz guitar and washed out vocals. Their debut EP "Topshop" is out now on local independent Faux Discx.
Worth a go for a truly chilled evening of fuzzy and upbeat dreamy guitar pop.
Starting at 7pm, free entry, aged 18+ R.O.A.R.
Latest EP "Making Love" out now on Mexican Summer/Rough Trade
For artist info and to buy the EP visit mexicansummer.com
Follow him on Facebook at facebook.com/travisbretzerguy
thegreendoorstore.co.uk/
words by Sarah Rayner