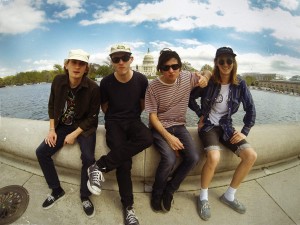 Billed on their facebook page as 'swinging punk', Splashh make a trippy, psychedelic powered, rock-electro-fuzz fusion of swirling sound, in the same vein as their melodic indie/alt-rock contemporaries Yuck or Ducktails, with fuzzy washed out throwbacks to nineties vintage shu-gazers like My Bloody Valentine and Lush.

Formed in the East London arts-epicentre of Hackney, Splashh only just hit the scene last year, and have already had a huge impact (made a big splash?) in popular and alternative muso-circles, with acclaim from BBC6 Music, the NME, the Guardian and The Fly. It's not surprising, with a talented line up comprising ex-INTL members Toto Vivian (synth and rhythm guitar) and Thomas Beale (bass) with ex-Checks drummer Jacob Moore and lead guitar and vocals from Sash Carlson, formerly of Colours and Coshercot/Brain Slaves.
Loud and dreamy, the four-piece released their debut album Comfort worldwide. It went live in UK this September on Luv Luv Luv records, and was preceded last year by three singles Vacation, Need It and All I Wanna Do. Now, fresh off the summer festival circuit in the UK and wider Europe, and a US tour in April with Blood Red Shoes and The Generationals, Splashh bring their sound a little closer to home at the Green Door Store.
An exciting, intimate venue and suitable setting to see a great band who are buzzing on the scene at the moment, Splashh at the Green Door Store are well worth a look.
Doors at 7pm, £11 on the door, £9 advance + booking fees. Aged 14+. R.O.A.R.
Their new album Comfort out now.
For more information and tickets visit seetickets.com
Follow them on Facebook at facebook.com/splashh.band
greendoorstore.co.uk
Words by Sarah Rayner.