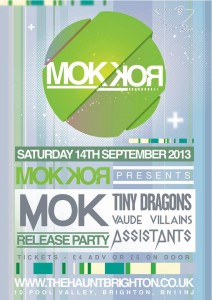 Can we assume Mok is short for Mock? Because their lyrics are quite often mocking, or making a mockery of… Never mind. The six piece rap/rock/indie/electro/dance posse from Brighton/London have been causing a stir in the local scene as of late; Winning the Shakedown 2012 competition to open the main stage, supporting Reverend and the Makers, Stooshe, Frankie Cocozza live, and being the cover stars of Brighton Unsigned Magazine. Not bad for a band under two years old. (Just to be clear they're not toddlers.)
Their show at The Haunt will be a showcase of their fresh take on modern pop. With funky bass lines, fat synths and vocal battles between male and female vocalists, you best catch them now before they explode. (Again, not literally, that would Mok an awful mess.)
7pm, September 14, The Haunt, £4 Adv 16+
Words by JDF
For more info visit facebook.com/mok.uk
thehauntbrighton.co.uk
DISCLAIMER: XYZ Magazine would like to apologise for some of the "humour" in this piece.  A full investigation is under way. We would further like to point out that we in no way support the use of puns. In fact, we are strong advocates of pun control….oh jesus…it's spreading. SAVE YOURSELVES!!….