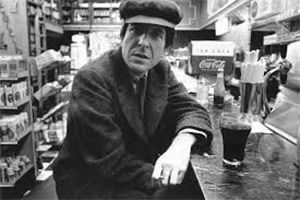 It is not every day that a legend of the calibre of Leonard Cohen comes to Brighton. The Canadian born singer songwriter, poet, author and troubadour's career spans six decades and in that time he has generated an impressive catalogue of 12 studio albums, 6 live albums and 14 literary publications. You only have to think of the incarnations of his song 'Halleluiah' to understand how his songbook could have been covered over 1000 times.
After a fifteen year hiatus, 78 year old Cohen is back, touring the world with his sell out, three and a half hour shows. Playing to an International army of critics and fans, who include Brighton-based Nick Cave, Cohen is proving he's still got it with his hauntingly deep vocals and backed by an incredible band of musicians, some of whom have been playing with Cohen since the 1970's.
Rolling Stone magazine has placed Leonard Cohen at #26 on their 'Greatest Live Acts Right Now' list and it's no surprise that tickets are getting expensive. Just watching 'Bird on a Wire', the on-off stage documentary filmed on tour in 1972 is enough to persuade you it will definitely be worth the money.
Starting at 18.30. Tickets are still currently available via third party ticket sites.
Children under 13 must be accompanied by an adult.
For more information visit brightoncentre.co.uk
leonardcohen.com
Words by Becca Price.