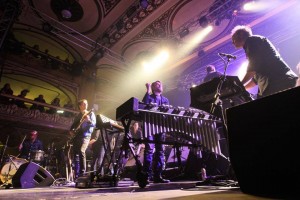 Jaga Jazzist are a full orchestral experience. The ten piece from Oslo, Norway formed in 1994 by founding members and the group's main songwriters, brothers Lars and Martin Horntveth, along with ex-Jaga Jazzist Ivar Christian Johansen. At the time, Lars was just fourteen.
Since then the band have been crafting fully formed modern rock, electronics and experimental lounge jazz fusions, with their second album 'A Livingroom Hush' (Ninja Tune) being awarded the acclaim of the best jazz album of 2002 by BBC Radio.
Their latest project is a live album of the band working with Cambridge's twenty-five piece chamber orchestra the Britten Sinfonia. The album was released in May this year and is suitably titled: 'Live with the Britten Sinfonia' and has recieved a positive reception from specialist Jazz publications and the press.
With brass elements from tuba, sax and trumpet, rock guitar, drums and classical and electric bass, as well as Korg synths, samplers and vibraphone, Jaga Jazzist's expansive sound is best experienced live. It's a subtle combination of modern rock with traditional orchestral and quirky melodic jazz elements, with a definite sense of fun, rhythm and sway. The surreal beats and electronic elements never remove from the organic, man-made soul of the music. Jaga Jazzist's influences are as wide reaching and eclectic as their sound, and  following well over a decade of music making and world tours, these orchestral aficionados never deviate from performance perfection. These old-jazz-hands know how to put on a legendary and dynamic live show that will not disappoint.
Starting at 7.30pm, £14 advance. Aged 14+, Under 16s must be accompanied by adult (18+)
Latest album 'Live with the Britten Sinfonia' out now
for more information visit jagajazzist.com
for tickets visit theoldmarket.com
words by Sarah Rayner