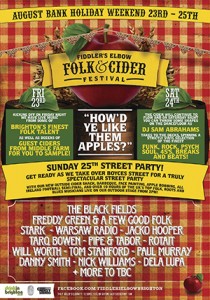 This bank holiday offers a sunny weekend of folk, blues and fermented apples courtesy of the Fiddler's Elbow and their lovely street stage. Situated snugly in the South lanes, this will be their fourth annual festival with a line up of Brighton's finest folk talent, vinyl deejays and over 10 hours of live roots and blues bands. Friday evening offers a flaming folk-off with acts such as The Black Fields, Rotait, Jacko Hooper and Stark.
On Saturday evening, DJ Sam Abrahams will be spinning funk, rock, psych soul, 45's and breaks and beats. Sunday kicks off at 2pm with a street party complete with barbecue, apple bobbing, live bands and face painting. The good people of Middle Farm will be providing a range of guest ciders throughout from their handy new outdoor cider shack. The party continues until late with a host of live bands and even if all that foot stomping gets too much, you can take a break to watch the all Ireland GAA football semi-finals on the big screen.
Free entry. Starting at 8pm on Friday, August 23 until late Sunday, August 25
For more information visit: Facebook.com/fiddlerselbowbrighton
Words by Becca Price.