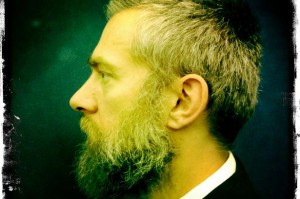 Legendary producer/mixer/engineer Ethan Johns (for Laura Marling, Kings of Leon and Crosby, Stills and Nash) does singer-songwriting too, and graces the Komedia with the sum of his talents.
Ethan Johns follows in the footsteps of his father Glyn Johns, who worked with Dylan, The Stones, The Who and just about any other rock and folk legend from the 60s and 70s. If the 00s equivalents – Laura Marling, Kings of Leon, Kaiser Chiefs and Razorlight – seem to pale in comparison, that says nothing about the producing, mixing and engineering talents of Johns Jr, who has become something of an undisputed professor in contemporary rock and folk circles. And if that wasn't enough, he extends his multi-instrumental musicianship from contributing to the albums he works on to performing as a solo artist. Last year's If Not Now Then When? proved his artist stripes, with a little help from his friends Laura Marling and Ryan Adams, who he's also worked with in his star-studded past. Receiving near-universal acclaim, if not stellar sales, it marks Ethan Johns as a bona fide unsung hero – one of the best kept secrets in modern British rock. That is until his 2012 Brit Award for Best British Producer.
Unsurprisingly given the musical palate of his collaborators in the past, Johns' solo work broadly follows folk lines, touching on 70s sounds (as does Marling), psychedelia (like that of previous collaborator Robyn Hitchcock) and the classic folk, country and blues-isms of Crosby, Stills and Nash. Single 'Whip Poor Will' (in which the previously mentioned collaborators appear, amongst others) demonstrates this best, its gentle strums, subtle progression and powerful simplicity echoing the 70s sounds of John Martyn and Nick Drake. With an enviably stirring voice and intelligent mastery of words – on top of his engineering talents – Johns is a knockout both sides of the studio glass, as well as on stage. As he proved at the Unitarian Church earlier this year, he can soothe and inspire a Brighton crowd with ease. With recent Paul McCartney production credits added to the list, it's safe to say that if he's as reliable a performer as he is a producer then his show at the Komedia will hush crowds with as much aplomb.
£11.50 adv, 14+, 7:30pm.
Words by Callum McLean
Head to komedia.co.uk for more information and to buy tickets, also available from Resident Records.