Ink this one in – next weekend marks the sixth ever Brighton Tattoo Convention. Find some space in your schedule, and on your left thigh between that gothic insignia and the dragon that used to be your ex's name.
Whether or not you're a seasoned tat-lover, the convention offers a whole weekend's worth of entertainment packed full of, but not limited to, more body art than you can shake a tattoo gun at.
Having grown steadily since its inception in 2008, this year's convention has doubled in size, relocating to the Hilton Metropole on the seafront. Its vast, period interior will accommodate over 350 artists from across the globe, an unmatchable market of merch, tat-miscellany and more, as well as their largest ever roster of bands and performers, spread over three nights.
A whole lot ink, some might think – and they would be right – the vibrant and creative world of body art is a rapidly expanding international culture. "It just seems really popular. [Tattoo parlours] are pretty much everywhere now", explains Kai from North Road studio Angelic Hell. "Most of the big cities have got quite a culture for it, but Brighton seems to have it a bit earlier than most others."
There's certainly no shortage of tats down by the seaside. But what is it about Brighton and body art? Kai elaborates, "It's always been a really relaxed and pretty alternative crowd here. Obviously with the sea we've always had quite a lot of older shops doing the more traditional tattoo".
Luckily for us, this puts Brighton in stolid place on the tattooing map. Indeed, the principle draw for tattoo lovers all over is the wealth of internationally renowned artists drawn to the convention, available for on site work. Choose from world-class artists for your dream tat, or just watch the masters at work. Regulars include Californian monochrome maestros Jose Lopez, Big Sleeps Norm Will Rise and Boog; traditional Japanese Gomineko legends Horiken, Horimas and Horishen; and orientalist dotwork champ Jondix from Barcelona, as well as many of Brighton's finest. And pitting all these together are the usual competitions, which independently judge the weekend's tattoos via various categories to encourage innovation and quality across the convention's body art.
So what is the convention's appeal for the proverbial blank canvas? Kai has gone to the convention every year, since before he became an artist himself. "[Tattoos] look good on the body, I've always liked that – there's no rebel part for me, I just like how they look". The fact of the matter is that tattoos are appealing from a purely aesthetic point of view, and the Brighton convention gathers some of the most intricate and over the top, all under one roof. You don't have to want one to appreciate that fact.
The real attraction for the un-tattooed – in the most voyeuristic terms – are the die-hard convention-goers themselves. Plus, there's always a bit of family friendly sadism for all: "It's always fun watching people getting tattooed – watching them squirm a bit, especially when they've got those guys doing alternative types of tattooing. The poking, the tapping – things like that, you'd never get to see anywhere else."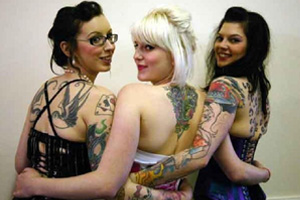 Beyond a kind of tattoo pleasure palace though, the convention offers a whole weekend's worth of seminars, vintage markets, galleries of tattoo-inspired artworks, custom jewellery and pop-up hair salons. And then there's  the convention's provided nightlife, which as well as allowing a chance for the newly-inked to flash their skin stash, the triple-party lineup features some hallmark names in punk, folk rock and Japanese performance art. Respectively fronting the bill are South London rock'n'rollers The Ricky C Quartet, the critically acclaimed Danny And The Champions Of The World and the lurid, exotic convention-staple SANAxxx. And even more gloriously, Saturday's show, as well as the warm up and after-party, will all take place within the Hilton. Why go anywhere else next weekend?
"It's just a fun weekend, you know – there's always something to see and do. It's a good chance to get a nice tattoo by an artist that would normally be well out of range. But there's plenty to do all weekend."
Whether you go as a tattoo-ee, a tattoo-er or a resolute blank canvas, the Brighton Tattoo Convention is sure to make for a fun and colourful way to spend your weekend, and will definitely leave a lasting impression.
£35 for weekend wristband, including free entry to parties. £20 day ticket. Pre Show Party £5 without wristband, 20:00 Fri 15th. After show party £8 without wristband, 20:00 Sunday 17th. All events at the Hilton Metropole, Kings Road on the seafront between Cannon Place and Queensbury Mews.