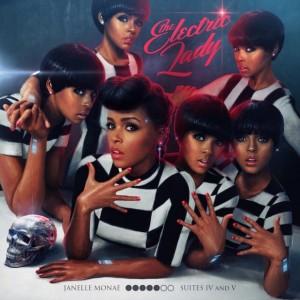 Saviour of pop Janelle Monáe channels (and even features) Prince on her second afro-futurist concept R&B album – think lesbian androids, epic string sections and plenty more 'classy brass'.
When Janelle Monáe released her debut album The ArchAndroid in 2010, it was met with rapturous relief by critics (especially The Guardian), who lapped up the concept-heavy theatrics of her alter-ego Cindi Mayweather and her eclectic R&B, funk and soul palette. Despite this, the album performed moderately in the charts – which isn't hugely surprising when you remember it's a concept science fiction album split into two parts of an ongoing heptalogy. Responding to this, Monáe's follow-up does seem to err slightly heavier on the side of, if not chart-pandering, then certainly going for the pop jugular. Lead single "Q.U.E.E.N." strings Erykah Badu along for a reasonably straightforward R&B ride, and "Dancy Apocalyptic" goes bubblegum in a similar vein to The ArchAndroid's "Wondaland", only with less oddball intrigue, more ukulele.
But by no means is this pop focus at the expense of Monáe's characteristic attention to detail. What marks Electric Lady out boldly from the pop and R&B crowd is not just the conceptual undercurrent, but the richness of subtexts, intertexts, asides and interludes that come with it. Electric Lady isn't just made up of songs, but skits, spoken word and two string 'overtures', all blended together with orchestral segues and comical commentaries going way beyond Monáe's own words on 2010's hit single "Tightrope" ("Ladies and gentlemen, the funkiest horn section in Metropolis. We call that classy brass"). The story of Monáe's alter-ego, Cindi Mayweather – an android prophet in a dystopic future "Metropolis" – continues, here describing her conflict between revolution and her romance, but there's also a colourfully painted struggle for android sexuality, mostly interpreted as allegory for racial and LGBT oppression. Most vivid are the excerpts from "your favourite robotic, hypnotic, psychotic DJ" at fictional WDRD Radio, DJ Crash Crash, who plays a similar character to Samuel L. Jackson's 'Mister Señor Love Daddy' in Spike Lee's 1989 film Do The Right Thing, filling in the gaps with his worldly, peace-keeping wisecracks from the studio desk. "Robot love is QUEER!", shouts one caller, to which Crash Crash responds, "how do you know what's queer if you haven't tried it?" It's an elaborate, wacky joyride from one side of the album to the other.
Despite this, it's far from a chore trying to keep up with the narrative undertow. Perhaps the most continually impressive element to Monáe's work is how often it makes you forget you're listening to such intricately woven conceptual works. Electric Lady, beyond anything else, is chock-full of tunes, varying immensely in dynamics and instrumentation, but always hitting the mark square on. Opener 'Givin Em What They Love' boasts a verse from none other than Prince himself – a huge fan of Monáe's – and plods along a tighter groove presumably than the trousers of the artist formerly known as 'The Artist Formerly Known As' himself. And "Look Into My Eyes" floats along a melancholy string bed to a tune that echoes "Pure Imagination", the dreamy song from 1971's Willy Wonka film, before merging into the album's second instrumental suite, which breaks down into a brassy shuffle yet again. It's an immensely pleasurable, unpredictable journey sonically, however much attention you pay to the Metropolis story itself.
And Monáe is on top form at every turn, not just on composing, aesthetic and narrative duties, but as a supremely belting performer, doing furious rap on "Q.U.E.E.N." at one turn, soft croon on "Can't Live Without Your Love" at the next – and a mojo-heavy sass-machine at every point in between. A slightly airier tail end to the record prevents it from being a complete masterpiece, but it's the closest thing to one that pop's seen this year. So if it doesn't quite make Monáe a bona fide saviour of pop in the charts' eyes, she's nevertheless as much a pop hero to the underground as Cindi Mayweather is to Metropolis' android uprising. And we can't wait to see how both of their struggles end on the next record.
9/10, out now, Callum McLean.
Head to her website for more information and to buy the album.