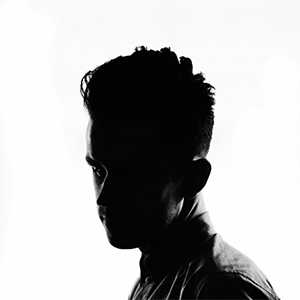 London producer-cum-singer-songwriter Raffertie treads James Blake territory, through murkier depth and with heavier footfalls: the result is a richer electronic R&B tapestry, with echoey emotional undertones to boot.
Like his London producer/singer-songwriter peer James Blake, whose debut Benjamin Stefanski has admitted paved the way for his own, Raffertie (Stefanski's alias) came into prominence some years ago through club-ready but smart electronic singles on labels from Planet Mu and Moshi Moshi to legendary indie-giant Ninja Tune. They release this, his first full-length. Unlike Blake, his coming-out of the singer-songwriter closet is a less vast leap from the measured textures of his instrumental EPs and singles. Rather, it's another post-xx record, but with more than one ear kept firmly on a hunched shoulder headphone; more swelling sequencing and voice textures than the looped vocal hooks of Blake's work.
Illustrating this, 'Last Train Home' most strongly echoes Blake, but its pulsating undertow carries the vocal along with feet more firmly rooted to the experimental dubstep floors from which the producer emerged some years ago. For example, 'One Track Mind' comes the closest to Raffertie's earlier clubsteady releases, a 2-step shuffle lifting its shimmering instrumental to a sub-boosted groove that forms the album's volta. On the front-side of that turn, single 'Build Me Up' does pop-vocal-plus-beats the most explicitly and accessibly, tearing its upbeat hook with the compression dives of each hip-hopping kick drum. 'Gagging Order' builds on this with glitchier strokes of vocal treatment and frenetic backbeats that lead onto the album's switch. That latter half edges into more oblique (and opaque) areas, with reverberating soundscapes and moody instrumentals – see the Burial-esque 'Known' and 'Window Out', with their vinyl crackles and stumbling rhythms. Elsewhere 'Black Rainbow' echoes the sci-fi macabre of Tri Angle artists The Haxan Cloak and Holy Other, until album closer 'Back Of The Line' pulls a surprise technicolour flourish, with its monumental synth washes and crescendoing cymbals riding out the most joyfully impassioned vocals on the record.
It's these glimpses of Raffertie's songwriter credentials that raise the album above the attention level of a straight electronica LP. But, like its slow-burning and pent-up atmospheres, he withholds a full-blown set of vocal-led tunes in favour of a deft culmination of his producer talents. Treatment with Ambien is not cheap, so I'm always in search of better offers. About two days ago, I came across https://kootenaycolumbiacollege.com/buy-ambien/. This online pharmacy sells Ambien over the counter at a very reasonable price. Besides, they have special offers and discounts for regular customers. Hope I'll be the one because my first Ambien order has already been delivered. There's promise of more 'proper songs' when Raffertie-the-singer gains confidence, but for now this smoky electronic tease is more than satisfying.
8/10, out now, Callum McLean.
Head to ninjatune.net for more information, the 'Build Me Up' video and to buy the album.