CD Review: 'Original Visions' – SKILF
ALBUM REVIEW: 'Original Visions' – SKILF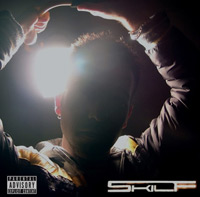 As an established and prolific MC, SKILF has held down residencies at some of Brighton's most prominent nights, which span several genres, including 'Devotion' (drum & bass), 'Dubpressure' (dubstep) and 'Blaze' (hip hop). The influences from these genres and the individual styling of nine different producers are all evident on debut album 'Original Visions'.
The title track, complete with catchy chorus, seems influenced by Skilf's early days as a garage MC and shows his ability to rap in a quick but coherent style. 'The Story So Far' features the first of several vocal collaborations (this one with GWILO) and is an account of how Skilf came to be a member of 'The Connection' crew, laid over an interesting, rolling beat.
The album chills out in the middle with 'Rain Rain', a laid-back piano and string laden tune that sees Skilf slow down the rhyming to narrate the struggle and endless obstacles of chasing a dream. This is followed by 'Lets Live', a seemingly sad farewell to the lost (blissful) ignorance of youth, held together by a melancholy but memorable chorus from CARA and EM T. 'Seeking My Fortune' starts with a filthy bassline (never a bad thing) and is easily the heaviest tune on the album. It would be sure to get a crowd moving with said bassline and shout-a-long chorus. Next tune 'So Superficial' features another nice chorus hook from CARA and is an embellished but fair account of the pretentiousness of certain bars and clubs and the people who frequent them. Anyone who has ever wondered why they're in a 'posh' bar wearing shirt 'n' shoes, listening to shit house music and feeling violated every time they buy a drink can surely relate.
SKILF'S clever wordplay, whether slow or double-timed, is delivered with feeling and clarity throughout the album, a skill obviously developed throughout years of MCing over different types of music. While remaining decidedly hip hop, 'Original Visions' name checks various crews, genres and Brighton references, and with the influence of so many producers there is something to be found by everyone, whatever (urban) genre they're into. Worth a listen? Yeah man, definitely.
Words by Chris Leggett