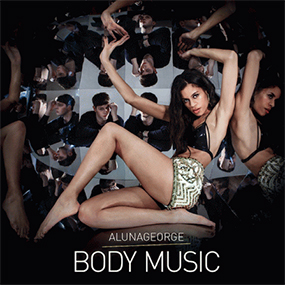 AlunaGeorge are a match made in heaven with this cocktail of twisted R&B; ingredients: warped producer plus sultry singer, with a heavy dash of nineties-nostalgic retro-futurism.
When singer Aluna Francis and James Blake-lookalike producer George Reid first released 'You Know You Like It' back in 2011, they attracted immediate attention, and the duo's following releases ('Your Drums, Your Love' last year, then 'Attracting Flies' in 2013) stirred their hype gently. But it was 2013 that was destined to carry their eventual breakthrough with the impact it deserves. Their warped brand of R&B, harking back to its golden era at the turn of the millenium with the producer monopolies of The Neptunes and Timbaland, has had an audience for some years, thanks to the inevitable nineties revival (see post-dubstep's endless sampling of Aaliyah, Destiny's Child and TLC). But it's the duo's explicit presentation of their collaborative producer plus singer structure that's found the perfect climate in 2013, (re-)spearheading the producer-as-artiste idea that was so prominent in the Timbaland-ruled era they most overtly hark back to. Less thanks to contemporary R&B and hip hop though, this is owed to a newly keen awareness of electronic production in the world of pop, since James Blake's own overt producer/singer talents and the mainstreaming of deep house thanks to hits from Duke Dumont, Disclosure (who AlunaGeorge collaborated with for hit single 'White Noise') and peers.
Unsurprisingly then, Body Music doesn't just sonically recall Neptunes-esque production, but also shimmers with the glitchy experimentalism of Warp records electronica, as well as echoing the twisted maximalism of producers like Rustie, Hudson Mohawke and Flying Lotus. Endless manipulation and pitch-shifting of Aluna's voice (a la The Knife) smother the album's title track and the hook of 'Your Drums, Your Love'. And Reid's deft production duties elsewhere create smooth blankets of sound underneath Francis' sultry R&B stylings, as well as the more straightforward electro pop of the impossibly catchy 'Attracting Flies'.
It's these pop hooks that cement the duo's sound in the pop imagination, and transport them from hot-new-thing-by-numbers to bona fide greats, thanks to Francis' sassy lyricism (see chorus hooks like "Little grey fairy tales and little white lies/ everything you exhale is attracting flies") and Reid's masterful arrangements (see the wonky 2-step of 'Lost & Found'). Overall, the duo are both clearly cutting their weight, and the end result is a hefty sledgehammer of a pop album to please lovers of the kinds of electronica that Reid apes as well as mainstream audiences across the board.
8/10, out now, Callum McLean.
Head to alunageorge.com</a]] for more information, tour dates and to buy the album.