Writer & musician Kae Tempest shares latest album 'The Line Is A Curve' – set for release on April 8th to coincide with an extensive tour of the UK & Ireland in support of the new material!
Fans can look forward to shows across the country, including:

The Brighton Dome show (April 28th, 14+, £33.55)
– and the DLWP show in Bexhill (April 27th, 14+, £31.25).
It's a first chance to hear the latest material since the resounding success of the 2019 nationwide tour – a busy year for Kae, bringing with it smash performances at All Points East, Edinburgh International Festival and of course Glastonbury!
Due out on Friction Records, 'The Line Is A Curve' is the fourth album from the Lewisham based talent, produced by long term collaborator Dan Carey, and a mark of what's to come as 2022 looks set to be another busy year on the calendar for the artist!
"Throughout the duration of my creative life, I have been hungry for the spotlight and desperately uncomfortable in it" – Kae Tempest
Written as a communicative record, this concept manifested itself both in the contributions of other artists (Kevin Abstract, Grian Chatten of Fontaines DC, Lianne La Havas, ássia, Confucius MC) and during the recording process, with Tempest's MO of conducting three vocal takes in one day, to three different generations of people; as Kae explains: "…a man of 78 who I'd never met, a woman of 29, the poet Bridget Minamore, who is a good friend of mine and then to three young fans of 12, 15 and 16 who had responded to a social media post."
Featuring artwork shot by renowned photographer Wolfgang Tillmans, Tempest describes the album with more detail:
"The Line Is A Curve is about letting go. Of shame, anxiety, isolation and falling instead into surrender. Embracing the cyclical nature of time, growth, love. This letting go can hopefully be felt across the record. In the musicality, the instrumentation, the lyricism, the delivery, the cover art. In the way it ends where it begins and begins where it ends.
I knew I wanted my face on the sleeve. Throughout the duration of my creative life, I have been hungry for the spotlight and desperately uncomfortable in it. For the last couple of records I wanted to disappear completely from the album covers, the videos, the front-facing aspects of this industry. A lot of that was about my shame but I masked it behind a genuine desire for my work to speak for itself, without me up front, commodifying what felt so rare to me and sacred. I was, at times, annoyed that in order to put the work out, I had to put myself out.
But this time around, I understand it differently. I want people to feel welcomed into this record, by me, the person who made it, and I have let go of some of my airier concerns. I feel more grounded in what I'm trying to do, who I am as an artist and as a person and what I have to offer. I feel less shame in my body because I am not hiding from the world anymore. I wanted to show my face and I dreamed of it being Wolfgang Tillmans who took the portrait."
Check out the below, from the album:
A prolific creative force with four studio albums, a novel, a first work of non-fiction ('On Connection'), three plays and five collections of poetry representing an extensive back-catalogue of work, Kae Tempest has staked a claim as a unique, thought-provoking and critically-acclaimed voice of this generation.
Check out below where you can see Kae Tempest live – and buy tickets now whilst they're still available!
Get Tickets:
Get tickets for the Brighton Dome show here (April 28th, 14+, £33.55)
– and for the DLWP show in Bexhill here (April 27th, 14+, £31.25)
UK Tour:
22-Apr-22  Manchester, Albert Hall
23-Apr-22  Edinburgh, Assembly Rooms
24-Apr-22  Glasgow, SWG3 Galvanziers
26-Apr-22  Cambridge, Corn Exchange
27-Apr-22  Bexhill On Sea, De La Warr Pavillion
28-Apr-22  Brighton, The Dome
3-May-22   Belfast, Cathedral Quarter Festival
6-May-22   Bristol, Marble Factory
8-May-22   Liverpool, Grand Central Hall
10-May-22 Birmingham, Town Hall
11-May-22 Leeds, Stylus
12-May-22 Hull, Asylum
14-May-22 Cardiff, St Davids Hall
15-May-22 Sheffield, The Octagon Centre
16-May-22 Leicester, O2 Academy
18-May-22 London, O2 Shepherds Bush
21-May-22 Gateshead, Sage

Ticket info: Kaetempest.co.uk
Album Track-list:
Side A
1. Priority Boredom
2. I Saw Light (featuring Grian Chatten)
3. Nothing to Prove
4. No Prizes (featuring Lianne La Havas)
5. Salt Coast
6. Don't You Ever
Side B
1. These Are The Days
2. Smoking (featuring Confucius MC)
3. Water In The Rain (feat. ãssia)
4. Move
5. More Pressure (feat. Kevin Abstract)
6. Grace
Pre-order the album:
You can now pre order "The Line Is a Curve" here!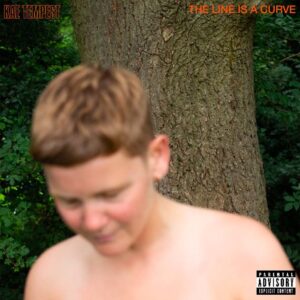 Follow Kae Tempest:
Artwork by Wolfgang Tillmans