Freebutt, 3 March 2010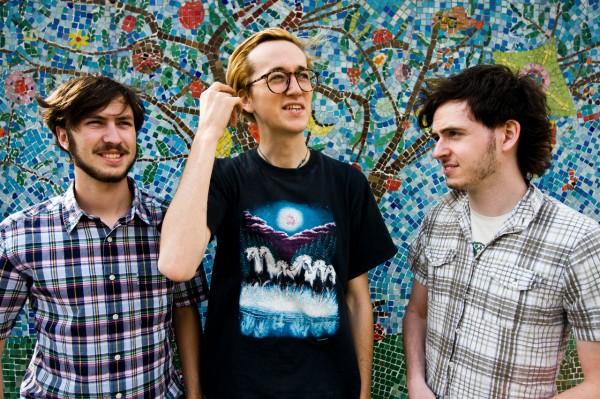 Since their 2006 formation in London's unlikeliest of musical hotbeds, Kingston upon Thames, Tubelord have garnered themselves something approaching a cult following. Signed to popular UK label Hassle (Rolo Tomassi, Alexisonfire, Cancer Bats etc.), the band arrives in Brighton for their first headline show here since the release of their fantastic debut album Our First American Friends, a medley of alternative sounds if ever there was one. Front man Jo Prendergast may have made a name for himself as "that guy who looks a bit like Kurt Cobain and J. Mascis in the early 90s" (anon.), yet he and his band hit the stage tonight looking for all the world like kids in a rather well-stocked toy shop, albeit kids fired up on beer and funny smelling cigarettes.
Opening with 'Your Bed Is Kind Of Frightening', Prendergast's high-pitched vocal approach doesn't quite live up to the promise it managed to show on the album itself, falling out of tune on the higher notes. This wouldn't usually be such a problem, yet the venue's sound engineers clearly deserve a medal or two for the clarity they have produced this evening. As the set progresses, through live favourites such as 'Propeller' and 'Night Of The Pencils', the latter sung back to the band by all in attendance, the band's initial shyness makes way for confident shape-throwing, crunching distortion and an all-round confidence over and above the members' tender years.
New bassist Tom Coulson-Smith is still clearly learning the ropes, watching his band mates carefully and following their lead every step of the way. Predergast's angular riff action doesn't quite sit with the bassist's sloppy rhythms just yet, but in time one suspects that as a unit these three (plus touring keyboardist James Eliot Field) will function superbly together.
What they lack perhaps in structural perfection they more than make up for with catchy, dance-inducing and ultimately light-hearted, tongue-in-cheek song writing. Take 'I Am Azerrad' for instance, the lyrics pledging to kill U.S rock journalist Michael Azerrad to the tune of alt-pop rock that Weezer would be proud to call their own. With plenty of touring and general hard work, Tubelord will rather soon become the band they certainly have the potential to be.
What Did You Think Of The Gig?
Nick: 7/10 "They are definitely Biffy Clyro-lite. They have catchy melodies, especially on their last song."
Horatio: 9/10 "They were really good, the less pacey songs weren't as good but it was very good generally!"
Luke: 9/10 "Tonight was my third time seeing them and they definitely get better every time."
LJ: 10/10 "I've seen them as a support band and this is the first time I've seen them headlining. They are better as headliners!"
Words by Oliver Robertson
myspace.com/tubelord
(Photo credits: Owen Richards)