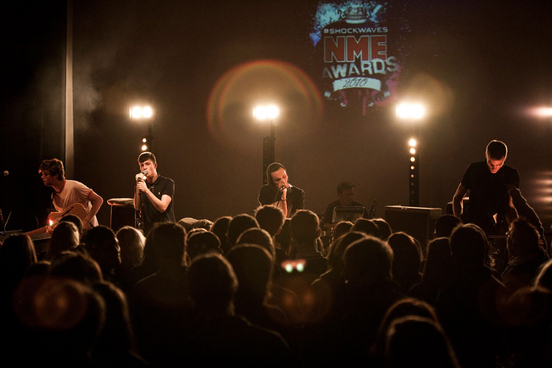 Concorde 2, 26 August 2010
How can one not have a soft spot for The Maccabees? From their two album releases to date, the Brighton-come-South-London five-some exude such ebullient warmth on record it should be enough to make even the most hardened, crusty of souls enjoy them. Their live show however is in a different stratosphere of emotion on the basis of tonight.
On a filthy, rainy night down on the seafront The Maccabees play to a packed and instantly sold out Concorde 2 in preparation for their Reading/Leeds Festival sets, with anticipation running high in a home-coming kind of way (not having played Brighton recently). And oh boy, do they live up to this fevered excitement. Tracks from the effervescent "Colour It In" and the more grandiose, darker tone of "Wall Of Arms" combine superbly and create a generous synergy in the flesh.
Huge favourites from their debut such as the fast-paced, high-energy of "Precious Time" and "All In Your Rows" threaten to make Concorde 2 take-off such is the crowd's reaction. "Precious Time" perhaps sums up The Maccabees, with delicately delivered, heart-on-your-sleeve lyrics during the quieter moments such as the intimate "toe-to-toe, nowhere to go", before exploding during the chorus to euphoric levels. "Can You Give It" and "One Hand Holding" intersperse the intensity of the two aforementioned, with a more subtle build – but with an equally as satisfying result, equally catchy guitar riffs and melodies, and equally adored by the Concorde 2 masses.
Here is a band very much at ease with themselves, knowing their work intimately; and this confidence and comfort oozes its way to the (sweaty) audience, who sing-along non-stop, crowd surf, dance and marvel all in the right places. We're even treated to a crowd surfing bin. Orlando is his usual smiley self, making eye-contact and mouthing along the words with the front-row, and Felix is mostly concentrating belting out his catchy repeated couplets from his heart, which they sure-as-hell know how to write. As human people they just seem… extraordinarily nice, genuine – and never forced, as is apparent in their music consistently.
It's been 18 months since the release of "Wall Of Arms", thus tonight we are even treated to some new material with both tracks never-ever having been heard before – "Two new firsts" as Felix puts it. Both start with a slow, strutting bass-heavy intro (almost funk-esque the first track), before building sonic layers throughout then exploding into a cacophony towards the end. "Can we just try" Felix tenderly pleads over and over in the second effort – before leading to a rapturous conclusion where he laments "Nothing Stays Forever."
Always slightly tricky, almost awkward to play new material to a crowd who know every song, pause, drumbeat and lyric off by heart, but both go down remarkably well and certainly bodes well for a potential upcoming album – it's not often you get a crowd-surfer during an unheard track. It feels like a similar step-up in sound as "Wall Of Arms" was to "Colour It In." Exciting.
A joyful night as The Maccabees are sent off to the promised land of the Reading and Leeds Main Stage. Nice guys finish last? Pah.
Words by Tim Boddy