Freebutt, 23 May 2010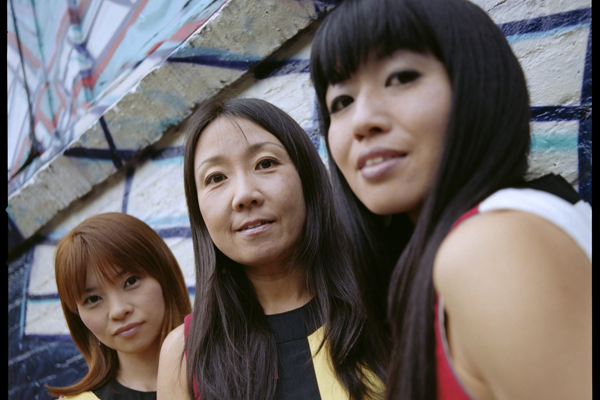 In the deep and dark Freebutt, lurked a band who came from a far away island in the Pacific to play Brighton, and revelled in their punktastic repertoire of riffs. They are known as Shonen Knife. This Japanese pop/punk trio of women from Osaka are touring the UK and Europe in support of their latest album (in the UK market at least), "Super Group", out now on Good Charamel Records. Their sound is nothing more than pure upbeat punk and is riddled with riff patterns and rhythms that seem heavily influenced by The Ramones and Rancid. Despite having been on tour for nearly three weeks and covering all the ground from Glasgow to Berlin, they showed few signs of fatigue while punching the air like Gene Simmons, hair thrashing like Angus Young and guitar wheeling like Pete Townsend. Before you ask, they were not a walking-talking gimmick or cliché; what they were was out and out performers from beginning to end. "Concrete Animals" and the title track from their latest release, "Super Group" were very impressive in all of their wailing, howling glory.
The sound suffered for a fundamental lack of control on the level of gain that was tapped into the amplifiers and the size of the audience was modest at best. However, the act did not suffer at all, as those that turned up seemed to skank and mosh their way through the whole set, contributing to the atmosphere no end. Lead singer and guitarist Naoko Namono, her bassist Ritsuko Taneda and new drummer Emi Marimoto held the stage with a great natural presence while engaging the audience with every pause between tracks. "Today was so hot! We were down at Brighton beach and couldn't make the best of it because we had no swimsuits!" The gentlemen in the audience (inevitably more focused on the thought of the band members on the beach) were more than happy to point out that the Channel would probably have given them hypothermia even at this time of year. Shonen Knife were geographically naive and Ramone-like in sound and moves, but their brand of hard edged punk with its charming girl like overtones was nonetheless a winning formula for a brilliant and well received night of entertainment.
What did you think of the gig?
Andy: 8/10 "They're just a really decent punk band, their riffs are a little like Rancid, up beat and violent all at once."
Mike: 6/10 "You couldn't really hear much, but what you could hear was pretty good, the venue is just too small."
Sarah Clare: 10/10 "I love them, they wail and scream without caring like a proper punk group!"
Tommy: 9/10 "I think this venue was perfect for them, they just rocked out, I liked the parts of the gig where about five tracks just rolled off each other back to back."
Words by James Rowland
shonenknife.com