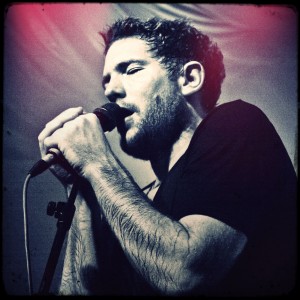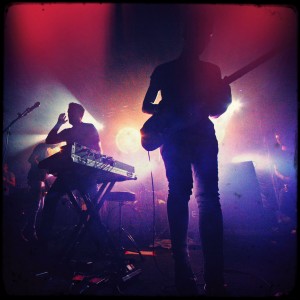 Originally scheduled to kick off back in March, Fenech-Soler's 2011 tour was postponed due to the tragic news of singer Ben Duffy being diagnosed with Testicular Cancer. After a surprisingly brief hiatus to battle said prognosis, this summer saw the band storm the summer festival scene and return triumphantly for their rescheduled sold out show at Brighton's Concorde 2.
Bathed in the murky glow of dry ice and multi-coloured lights, the support act Paper Crows' sound was a little on the subtle side. With their vocals barely discernible above songs with a heavy bass finish, they were largely overlooked by the sea of fans that filled the venue this night.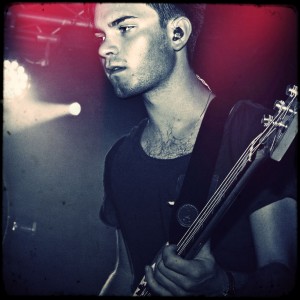 Bathed in a white strobe, Fenech-Soler's ascent onto the stage was met by a crowd whose roar could've started a Serengeti stampede. Crowd favourite "Demons" drove a packed venue of fans into a frenzy and sent a Mexican wave of hands plunging in and out of the crowd.
The band created an atmosphere and a vibe not far off celestial, and flashing lights and pounding rhythms saw fans raise them to the heights of gods on a pedestal. Jumping from one song to the next with the speed and control of a club DJ, they followed an epic start with a show packed with their relentless and boundless energy. Especially the guitarist.
A top gig; energetic, superb – they ruled the crowd.
For more information see fenechsoler.co.uk
Words by Andrew Nicholls
Images by Tori Barratt-Crane
What Did You Guys Think Of The Gig?
Name: Clayton.
Rating: "It was a quality gig really. Had a good time, would definitely come back again. Good atmosphere, great live. Good vibe, good music."
Name: Tobias.
Rating: "It was all so tight. The bass was heavy. The music was just amazing. It was the fourth time that I've seen them live and I'd see them again".
Name: Bobby.
Rating: "It was awesome. It was a really good atmosphere. I had fun".
Name: Roz.
Rating: "As always Fenech-Soler never fail to disappoint. I've seen them perform live before; I'm quite a big fan. Very, very happy with the gig tonight".