Devil's Dyke, 22nd to 25th August
It was a rocky start on Friday – the sky was black with cloud and the wind whipped over the Downs, freezing my hand to the can of Tuborg. The much-anticipated Phil Hartnoll project Long Range failed to appear, and in its place were the sub-Moloko Mancunian music-by-numbers, Crazy P, offering a derivative slice of disco-dirge. But come Saturday, God smiled upon Devil's Dyke and the sun shone down on local mash-up merchants The Kleptones as they unleashed their high-energy brand of cut and paste music. Splicing everything from R&B, pop, rock and hip-hop, over-sampled film excerpts and a pounding bass-line, these gonzo DJs created an infectious sound and atmosphere that really got the people moving.
New York dance collective Hercules & Love Affair also turned in a crowd-pleasing performance with an hour of beautifully constructed disco anthems reminiscent of the glory days of Studio 54. Although missing the rich, exquisite vocals of Anthony Hegarty, the impossibly glamorous transsexual Nomi pouted and gyrated her way through 'Raise Me Up', 'You Belong' and the sublime, 'Blind'. Diminutive fellow singer Kim Ann Foxman added a further layer of harmonic texture with her sassy vocals on 'Athene' and the excellent horn section traded exhausting jazzy solos and mesmerising discordant brass squeals on their closer 'Hercules' Theme'.
Dressed suspiciously like science teachers in beige slacks and sleeveless polyester shirts, geek-punk rockers Young Knives turned in a polished, highly accomplished set, performing their abrasive, spiky, angst-fuelled songs about fighting and how shite modern life is. When not trading cynical insults with each other or mock-rock posturing, these ironic pranksters produced intelligent, lyrically astute and darkly funny skewed pop songs like 'Up All Night' and 'The Decision' (the song apparently raised enough cash for vocalist Henry to buy a Škoda Fabia!).
It may have been nearly 20 years since the release of their seminal album '3 Feet High and Rising', but old school hip-hop 3-piece De La Soul have still got the skills and they certainly know how to work a crowd. With the almost obligatory props to other rappers and the entreaty to raise your hands in the air, Pos, Trugoy and Mase took an enraptured crowd through their huge back catalogue of sharp beats and rolling bass-lines, from early 'Potholes In My Lawn' to later party bouncers like 'Oooh' and 'Stakes Is High' – a tight masterclass in feel-good hip hop without a hint of guns, gangsters or gold.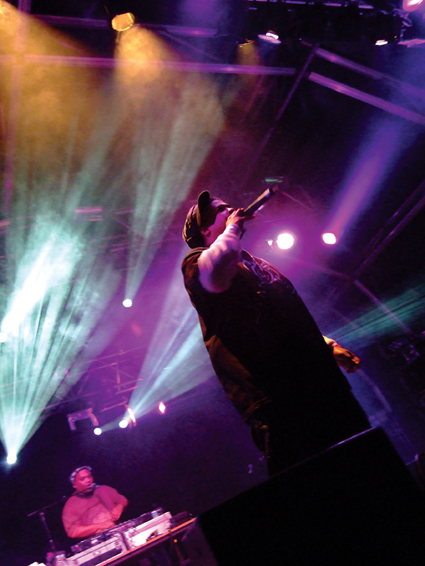 I had just enough time to hotfoot it to the Brighton stage to catch the last few songs from local, and still unbelievably unsigned, electro-pop fourpiece Transformer. They turned in a typically blistering set with their potent fusion of swirling synth hooks, jagged guitar breaks and stomping beats on the likes of 'Coconut' and 'Cinema Car' (where a stage-stealing Johnny Giles played the Moog with his forehead!). Best highlight of the Brighton stage for me were Doll & The Kicks – a confident, razor-sharp outfit whose irresistible slice of punk-charged riffs undercut with catchy pop hooks brought the stage alight. Charismatic frontwoman Doll was the personification of sexy swagger and assured trashy sangfroid (think Wendy James meets Karen O), whose soaring vocals on bittersweet anthems sparkled with real menace.
Last up on Saturday was the doyen of disco Roísín Murphy, who bought a somewhat flamboyant, stylish and theatrical edge to proceedings. With a staggering six costume changes and a smoky voice that shimmered and smouldered, Roísín powered through tracks from her first and, significantly better, second album. I would liked to have heard more old Moloko tunes, but she was clearly concentrating on her solo material – an electronic feast of fractured beats and brass breakdowns. Vamping and strutting around the stage, she possessed a real on-stage magnetism, as every diva should, even down to the highly camp homage to James Brown's cape routine.
On the whole, Beachdown 2008 proved a real success – it was well-organised, bands ran to time and the turn-out was good, although I'm sure more people would have come had the weather been better. I think the decision not to produce day tickets put a lot of people off, as well – but that's a minor quibble. The location on the South Downs was stunning, with wide vistas of sky and greenery stretching for miles, and the eclectic line-up meant a mixed crowd in an atmosphere that was both relaxed and laid-back. The food was better than your typical festival fodder, especially Due South's minted lamb pies and gravy, and the margarita slush puppies slipped down a treat…here's to
Beachdown 2009!

Words by David Gallienne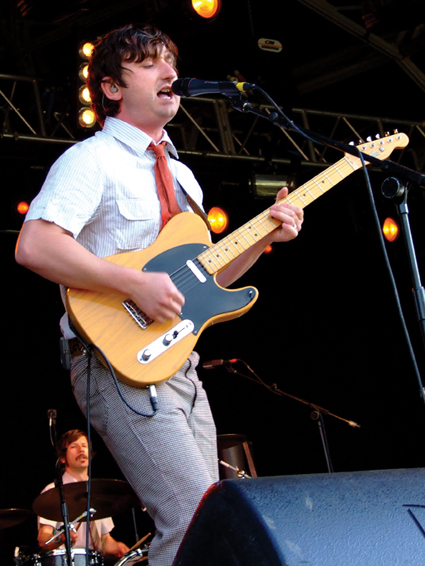 LIVE: Electric Tent, Beachdown festival
I'm going to write this review backwards, exactly as it turns out, like the DJ line up for the Beachdown Festival.
Following the Fun Loving Criminals headline slot on the main stage, the Electronic tent was packed for Sunday's headliner Mr Scruff, who at nearly three hours had the longest DJ slot at the festival. Accompanied on-stage by a VJ who controlled visuals featuring the Potato People (as always, drawn by Scruff himself) along with messages to the crowd. The "Warning: Incoming Bassline" message being particularly welcome. Scruff sets, without exception, are massively varied but always with a funk and jazz flavour tonight being no exception.
Setting the tone early on in the evening was Lamont Dozier's 1971 Motown classic 'Going Back To My Roots'. A seldom-heard treat to begin with, even if it wasn't played in its epic 10-minute entirety then it sure felt like it and unfortunately was one of several occasions where parts of the crowd lost interest. The set flowed seamlessly through nu-jazz pioneers Jazzanova, the latin tones of Fania All Stars' 'Caro Miraye' via the odd dubstep infused trip-hop track before ending up with 'Love Cats' by The Cure. Scruff's classic and crowd pleasing 'Get a Move On' came right near the end of a set that, although by no means bad, struggled to hold the attention of so many musical tastes gathered in the Electronic Tent.
This was nothing in comparison to Soul of Man's performance during the Against the Grain vs Finger Licking Records night on Friday. Following the hugely entertaining A-Skillz the volume in the Electronic Tent seemed to drop considerably and Soul Of Man's mix of breaks and occasional electro/house failed to make an impact. Only a few songs in and the background murmur was clearly audible above the music as the crowd took more of an interest in chatting than dancing. The fact that Soul of Man were not using headphones and playing off laptops clearly indicated that everything had been pre-synced before hand and they were essentially pressing play and just tweaking the EQ's. Considering the (ignored) power and innovative uses of the Ableton Live programme they would have been using, Soul of Man made for a disappointing DJ show that no amount of jumping around and shouting from the two members could make up for.
This, dare I say, lazy show was accentuated by the fact it followed an excellent performance by the aforementioned A-Skillz. The unexpected dropping of 'Bohemian Rhapsody' was a perfect example of the sort of tune that delighted the appreciative and fully involved crowd, this song also featured some rare beatjuggling in a set that was lighter on scratching than previous A-Skillz gigs. The set consisted largely of mash-ups obviously prepared before hand but crucially stitched and mixed together live. 'Rock The Funky Beats', the acapella of Roots Manuva's classic 'Witness', the universally loved 'Harder, Better, Stronger, Faster' by Daft Punk and a remix of 'California Love' were all expertly wove in and out of each other and all proved popular with the crowd.
Considering the Electronic Tent was the only main stage that played music after 11pm, and always packed as a result, any DJ playing at Beachdown was going to have a difficult job. A tent full of different music tastes is always going to be difficult to cater for yet A-Skillz did exactly that. His inspired final section of Britpop classic 'Parklife' looped over the drum & bass intro of Andy C's 'Bodyrock' was a perfect example of how to please completely different scenes. It was for this reason, in hindsight, that perhaps A-Skillz should have played the long, final set on Sunday having proved beyond a doubt his true worth as a festival DJ.
Words by Chris Leggett
Photographs by Jarvis Osbourne