SCIENTIFICALLY PROVEN: Astro-Physics live @ Concorde 2
Friday 8th February 2008
Free entry to the Concorde 2 on a Friday night will always draw a large crowd and tonight's crowd couldn't have been a more varied bunch. After being kept outside while an early show was cleared, everyone piled in and was soon dancing merrily in the main room.
However, it was when Brighton's Astro-Physics burst on stage with '24 hour MC' that things really got interesting. MC's Skilf and Deep Blak grabbed the crowd's attention instantly with an obvious chemistry that allows them to bounce off each other and create a dominating stage presence.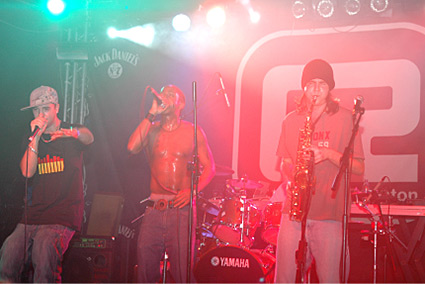 Follow-up 'Lightweight' involved the crowd even further, prompting mass arm waving during the sing-a-long chorus. Next came 'Rain Rain', a laid-back Skilf tune (from solo album 'Original Visions') which brought the tempo down (for the first half of the song anyway). The re-worked live version saw bassist Steve Rainbow produce a bassline so heavy it didn't seem possible to be coming from a guitar. Seconds later, the rest of the band kicked into a drum and bass rhythm that showcased an unbelievable dexterity between the members. The energetic performance had, by this point, whipped the crowd into a frenzy.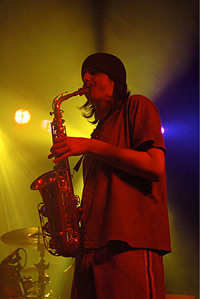 The ability of the group to fuse hip hop, d&b and funk and to switch between them meant that there was something for everyone and every tune had the crowd going crazy. The atmosphere was so party-like that by closing tune 'Raw' the band were happy to share the stage with a group of dancers from the crowd. Drummer Martin Deering even managed to hold together a beat while being fed beer by one enthusiastic party-goer. Buoyed by their free entry, the gathered crowd was already in a good mood but it was the surprising, tight and original set from Deep Blak, Skilf and Astro-Physics that turned the atmosphere electric.
With an EP due out in a few weeks and a proven ability to rock a party, Astro-Physics are a band worth following, and XYZ certainly will be.
Words by Chris Leggett. Pics by David Tatnell.