Hector's House, 27 June 2010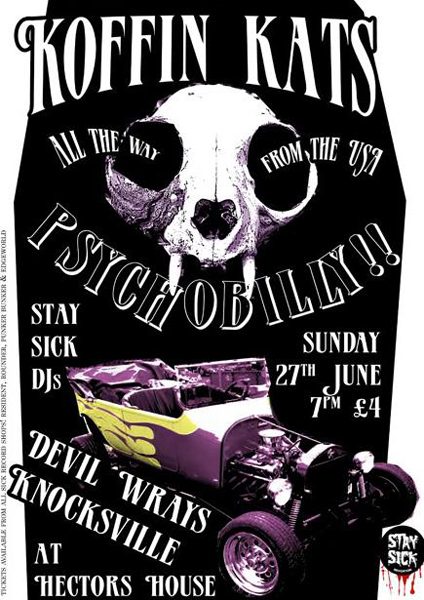 As the majority of the country shuts itself indoors to have a good old sulk at yet more World Cup disappointment, a hundred or so rockin' souls have gathered on this baking Sunday evening to witness one of psychobilly's hidden gems, Detroit's Koffin Kats. The first chance for the assembled faithful to see new guitarist EZ Ian in the flesh; there is a palpable excitement drifting around the room as stand-up bassist/vocalist/bringer of supreme mayhem Vic Victor brings that first rumbling twang to fruition.
Not content on simply churning out their tunes to a weekend-weary crowd, it isn't long before EZ and Vic in particular find themselves in all sorts of strange mid-song positions. We aren't just talking foot on monitor stuff here; rather full-blown contortionism! During one hyper-speed bass solo, Vic places his sizeable instrument on the stage and proceeds to spoon it from behind whilst never missing a beat. The next minute he shuffles up to EZ, the two having swapped instruments mid-song, and plays out the bass notes with the neck of his guitar. Spellbinding stuff!
A mention must be given to the new six-stringer, for it's as if he has always been a member of the band. The chemistry between the trio, the togetherness and spot-on precision of playing would suggest so.
The live favourite "At The Bar" has audience members hurling themselves about the wrecking pit and singing along with absolute glee as the temperature raises several notches and the band even finds time to squeeze in some newbies such as "Saw My Friend Explode Today" into their 20-plus song set. Attributing to the fact their performance is part of a club night, the band plays on a little too long for a Sunday evening gig, promising to "stick around and drink" before they jump offstage drenched in sweat. Early reports suggest a few sore heads come Monday morning!
Words by Oli Robertson