Digital, 1 April 2010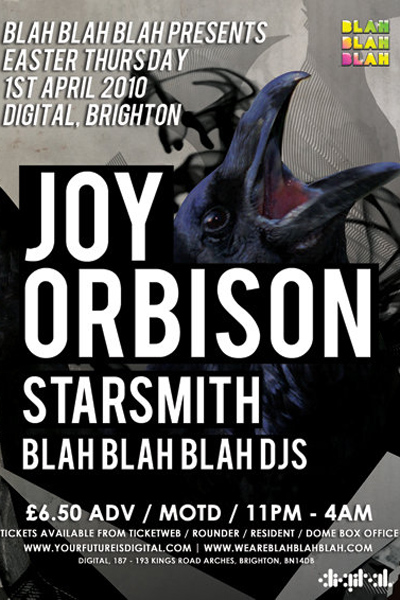 Since the tail end of 2009, dance floors across the UK have been brought to their knees by the sounds of Joy Orbison. Last year in British bass culture no tune went further to the other side of (what you call it?) 2step/ dubstep/ garage/ house/ grime than 'Hyph Mngo'. His debut single escapes definition, with it's epic ethereal build up, synth stabs, and stuttered vocal snatches. It all rolls along and always, seeming, to rise upwards. The follow up single 'Brkn Clln' was released on his own imprint Doldrums and is already highly sort after. He has done remixes for Four Tet and Jose James, and last month saw Orbison's latest offering The Shrew Would Have Cushioned The Blow EP. With 'Hyph Mngo' being cited as tune 2009 by many, it is no surprise that he has made it on to the BBC's Sound of 2010 list. And all this at the tender age of twenty-two.
Blah Blah Blah, who consistently brings the contemporary big names to Brighton, organised the night. With recent dances headlined by Major Lazer and Sinden, Blah Blah Blah live up to their claim to be "the ultimate purveyor of all things electro, fidget, house, disco and techno related." Their DJs provided the support and for first few hours the dance floor kept moving through big build-ups and breakdowns, all measured with a meticulous four to the floor rhythms. Through minimal techie bits to fidget to funky, energy levels rose.
Joy Orbison took to the turntables around 2:30am. His set was beautiful composition, playing a broad selection that extended upon elements from his own material. As expected, it was consistent in fuzzy warm basslines, euphoric vocals and garage-esque drums. Through out his concise set he played the majority of his back catalogue. He dropped The Shrew Would Have Cushioned The Blow early on. It was the first time I had heard it out over a big sound and the vocal sounded even more chilling.  The crowd responded well when B-side 'Wet Look' was played, along his remix of 'Blackmagic'. Eagerly anticipated, 'Hyph Mngo' went off, causing a mad rush to the stage as everyone in Digital tried to get to the highest point. Every time 'Hyph Mngo' is played, it continues to sound fresh, innovative and like nothing else out there.
I strongly advise you watch out for Joy Orbison in the near future. He is a trail-blazer of a new sound, which although deeply rooted in UK dance music traditions, appears to have come back from future. Don't Sleep.
Words by Freddie Duffield
myspace.com/joyorbison