Concorde 2, 13 March 2010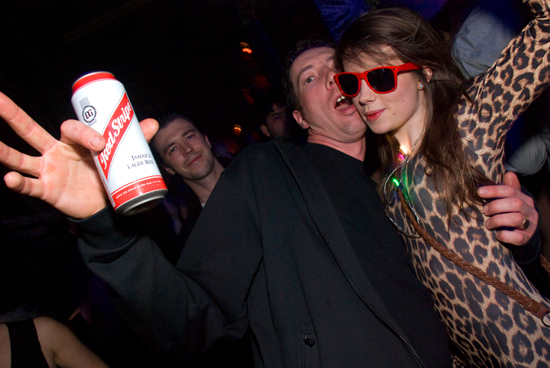 Bearded Kitten's – winner's of the £5K Smirnoff Creative Grant – Forties To The Noughties evening was not something you can just make assumptions about. What I mean by this is that it was the illusive mix of music that stands the test of time, crazy performance artists, installations, multi-dimensional post modern theatre, industrial hippies dancing like it's WW2 and a diverse array of broad minded clubbers that no one would expect to occur in the same room. 'Only in Brighton' is a phrase used all to commonly in situations like this, though I'm sure it's not politically correct.
As it was said at least once on this night, "The toilets smelt like excitement" (?). There's something about the sound of air raids sirens being played through speakers at people that seems to evoke a sort of 'live for today' adrenaline kick in us. Perhaps this is genetic or a past memory from a collective subconscious? And when the fake Winston Churchill stood up and made a big old speech about dressing up and being 'proper stupid' or the threat of this venue being at war was upon us, it was very difficult to be desensitized to the faux pre war madness of it all.
There was much to amuse; posters and cut outs of famous figures such as Monroe, Churchill and John Lennon accompanied by many wise quotes and some not so wise (G. W. Bush). There were decade appropriate films projected all over the place, performers from all over the spectrum including a very classy 40s/50s stripper who looked a bit like Betty Page and even some really grumpy looking sound technicians at the back who had obviously been up for three days and were running on Redbull.
The 'noughties' bit appeared to be a small section in the back room where they played modern house music and sold shots of Jagermister and Sambucca in their succession to some very lost and confused looking students, but in all seriousness they basically hit the nail on the head when it came to capturing the moment and no one really cares about the noughties anyway because it's not even retro yet.
A special mention must be made to the short haired young woman pretending to be a BBC interviewer from way back in the day – terrific accent and very funny act, well done guys, you were one of our favorites.
There isn't really much else that can be said accept for more of listing the things that occurred over the space of SIX hours, it was definitely well worth a pop at, not your average clubbing experience (thank goodness). In conclusion it was proper weird and the entertainment was never ending; Space man, Shaft, Lennon, Jimmy Saville? Oh lord, tragic and awesome all in one.






































Words by Kate Elliott
Photography by Pornrutai Lohachal
facebook.com/SmirnoffGB