Concorde 2, 30th November 2009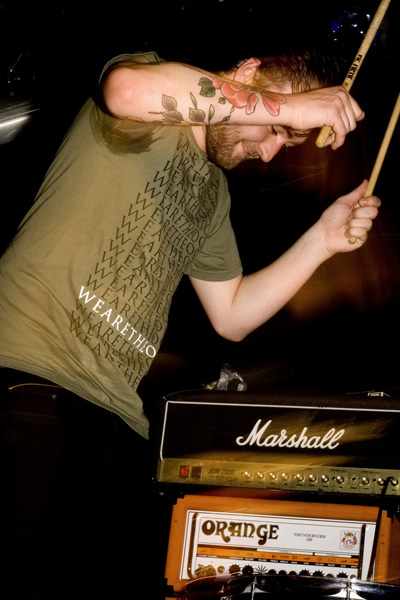 Seeing vast amounts of apathetic teens in skinnies sipping cider was not a surprise. As I walk through the empty bar and into the half empty Concorde 2 I'm greeted with a familiar sight. Straightened hair glistens as moody eyes follow me to the front. I wait for Flood Of Red.
Flood Of Red are a sextet from Glasgow, Scotland. Meeting and forming in 2004 at a school in Airdrie, they started as a trio, but the band quickly evolved. Initially playing 'post-hardcore' they set off on tour months after forming. But now they have come to call their music big and loud, whatever that may be. In 2007 they released an EP which gained small critical acclaim in the United Kingdom. The band found themselves touring until 2008 where they began to write what would become Leaving Everything Behind and it was released on their record label Dark City. The album was reasonably successful and there was only one thing left to do, start touring!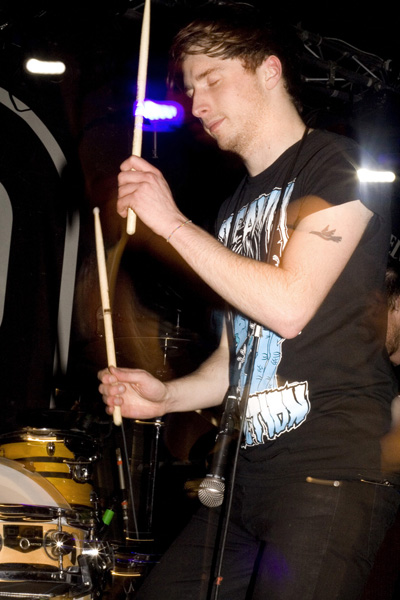 So here I stand. 'Like Elephants' guitar introduction slices and floods, ringing out perpetually. This leaves lots of space for the vocals as they build emotion and create tension. Swiftly entering is the verse. Slightly heavier it is easy to see where Flood Of Red have come from. And where have Flood Of Red come from? Ah, perhaps they were once similar to the support acts, the type of band that persistently carries on. They play reaming unable to grasp the fact that the time is gone, just another FFAF copycat band. But Flood Of Red have pulled themselves above the water, slightly. They have changed and adapted. As opposed to other bands of the same genre, they are intellectual and emotional. 'I Will Not Change' moves slowly with notes spatially orbiting, then comes crashing down; the chorus writhes. As do the audience, they stare.  They understand what is being said. There is a slight chill in the air, it fades with the last song.
So, Flood Of Red, what now? They've come to evolve as a band yes, but will it be good enough? Are they just producing music in a stale scene? Filled now only with young kids. Emo is dead for now but perhaps, with Flood Of Red, long live emo.
Words by Niall Amour
Photography by Ruby Allcock


myspace.com/floodofred