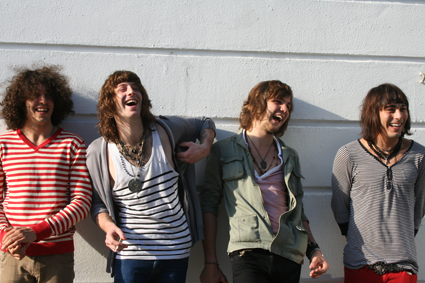 From touring with The Kooks to 'four in a bed', CTD were signed by Virgin in 2005, with their first single set to be released in February; we catch up with the band before their gig in Camden and ask them a load of questions…
XYZ: XYZ: So how's everyone feeling before the gig tonight?
Dan: I think we're quite excited, it's always good to come back and do a London tour, and yeah Proud Galleries is quite an important venue.
What's your favourite thing about Brighton, and your fave place?
Daryl: The people, I think the people are… anything goes I Brighton, you could walk down the road in a red trench coat and a green Mohawk and people are just like… yeah
Andy: We found out it was a great music scene, people were always telling us as we were in London, we knew people that were going down to Brighton, starting bands, and it seemed pretty fresh, a nice community of musicians. Favourite place? Concorde 2, yeah it's just great sounds are there, good shape and everything works really, we had a good laugh!
XYZ: You supported The Kooks on tour, what was that like? And how did you meet?
Andy: Yeah its cool, its fun, they're mates, it's a laugh…I met Max and we became really good friends and went out and partied and had a good time together and we just kind of all became friends!
You've been compared to some legendary bands:, Rolling Stones, Led Zeppelin, Nirvana, The Beatles, and how does that make you feel? Is it a pressure?
Andy: Those are just roots of all music, in a way everyone can be compared to those bands, you know? They've all done ground breaking things, and every band that has existed after that has taken a little bit from this
What're your influences and inspiration?
Chris:Yeah I would say the Beatles, Nirvana……
Andy:Definitely the Beatles. We have different taste in music but that's one we all agree on
It must get a bit cosy on tour being four of you…
Andy(points to the one double bed in their hotel room) As you can see we're all sleeping in this bed tonight
All (Laughter)
Who in the band is the biggest pain in the arse?
Chris: We all get on each other's nerves, (laughs)
Daryl Every couple of weeks, and then we're like nah don't worry about it
Chris: It's actually amazing, we could have a right out-roar, like a big fucking argument, then the next minute we're like… what we doing now? (laughs)
Andy (laughs): Then we'll play the gig
The Guardian called you 'not rock n roll animals but the tamest of beasts', what say you?
Andy It's quite nice
Daryl I think there's different sides to us
Chris I think were extremists as well, we're just extremists
Dan True. Going back to getting on each others nerves, if you saw us arguing from a distance or you're there at the time, you'd think it was the worst possible thing, it could get really out of hand…
Andy (interrupts) If our band was a shape it would be an octagon put it that way
Dan(laughs)… I agree with Chris we are completely…do things to extremes
What makes you guys different?
ChrisWe're grounded and cool -chilled about things- then we going on stage and smash things up, go fucking mental 'n' scream our fuckin heads off…I don't think we could stand on stage without losing our fuckin heads a bit.
AndyWe do take pride in a live show. It's important to us to have something that's sounds a little bit different off record to what you hear live, it's a show, an experience, you want to come and hear the songs that you love, but you don't want to hear it the same as the record, you want that variety, that improv.. We play our songs differently every time, its different, its fun. People get off on that, its fun, its kind of old school, like 60's and 70's style
Words and pics by Jessie Barry