*IN XYZ BRIGHTON'S EVENT LISTINGS GUIDE*
---
Event Listing Info:
Event categories
Date
12/04/2019-13/04/2019


Location: Patterns Brighton
More info about the venue & events at the above link.
Prices in £:
First tier tickets are £15
Washed Out Festival will be returning in 2019 – but this time it will be bigger and better than before. The festival will be taking place on Friday 12th April from 18:00 until 02:00 and on Saturday 13th April from 13:00 until 02:00, making it a spectacular two day event across multiple venues in the vibrant seaside resort of Brighton.
A music festival hosted in the centre of Brighton, in a selection of the city's best underground music venues and idiosyncratic bars. A festival with roots firmly in the Brighton DIY community. Curated by a team of driven and passionate live music promoters, who champion DIY artists and scenes, whilst they cultivate mainstream success. Washed Out aims to build Community via a DIY approach to Art and Punk culture.
Venues for this years festival will include all of our usual favourites; Green Door Store, The Prince Albert, Quadrant, The Hope & Ruin, Latest Music Bar and East Street Tap (but No Sticky Mike's Frog Bar RIP). Whilst new additions will include Patterns. That's a total of 7 venues jam packed with new breaking bands and some you're most likely already very already familiar with.
Once again we will be bringing you some of the best bands and artists that the DIY scenes have to offer us! Feast your eyes on the first lot of bands to be announced:
All Better, Americansignlanguage, Bitch Theme, Bloody Death, Cady, Charlotte Light and Dark, Death and the Penguin, Death by Shotgun, Doe, H_ngm_n, Mean Caesar, Modern Rituals, Pocket Dread, Public Body, Punch On, The Menstrual Cramps, The Winter Passing, Throwing Stuff, Triple Sundae, Woahnows and Yr Poetry
For links to the artists please visit our website:
www.washedoutfestival.com/line-up-2019
We look forward to welcoming you all to Brighton next year for apunk rock party by the sea.
www.washedoutfestival.com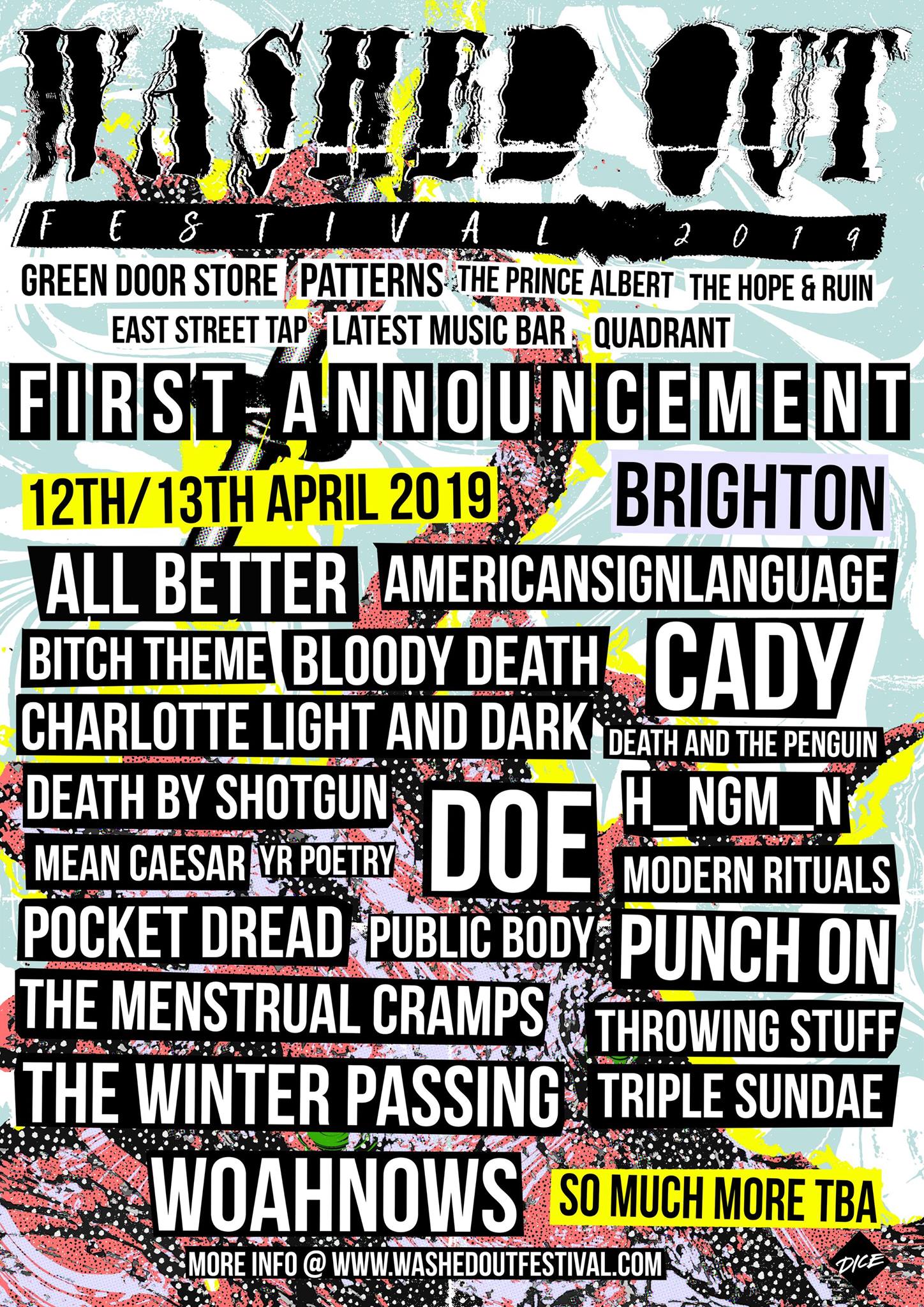 Website:
Full link http://www.website.com
http://www.washedoutfestival.com

Ticket Link: Full link http://www.website.com
http://www.goo.gl/QZVFi7



Email: contact@washedoutfestival.com



Talent Website: Full link http://www.website.com
https://www.washedoutfestival.com/line-up-2019



Event Capacity: 1200

Dress Code: None

Age Limits: 18+


Spot a mistake? Tell us so we can fix it ASAP.

Add your events to XYZ Brighton's event listings online!