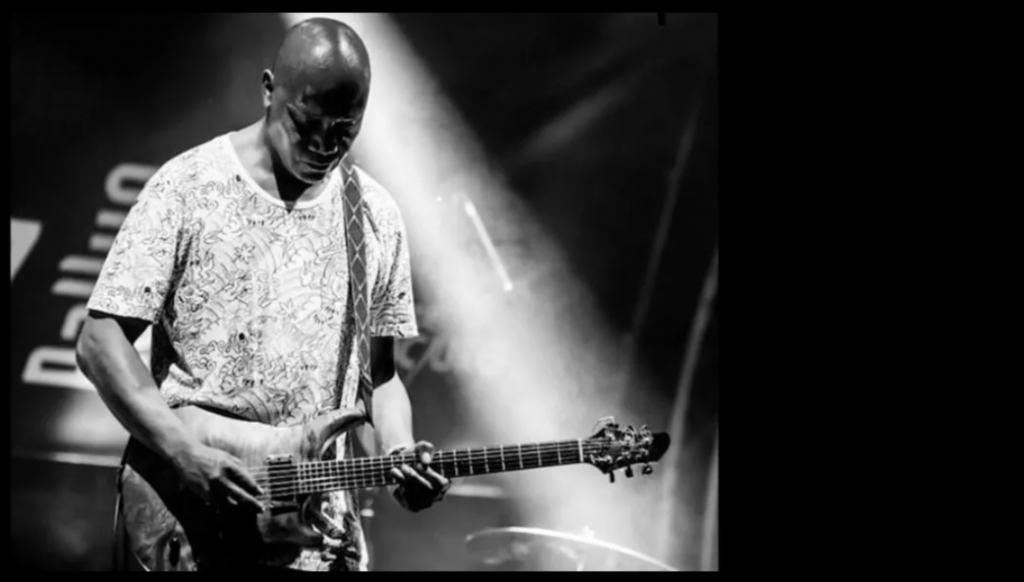 Tony Remy Trio Live at The Verdict Jazz Club
XYZ: 'IT'S ON!' EVENTS & OFFERS - *WHAT'S ON IN BRIGHTON & HOVE*
---
Event Listing Info:
Event categories
Date
10/02/2023
7:30 PM


Location / Link: See what's on & more about the venue at the above location page / link.





Tony Remy Trio Live at The Verdict Jazz Club
TONY REMY is one of the world's most exciting guitar players of any genre. His hard-edged rhythmically driven approach is enriched with jazz intuition and bluesy soul. His ability to adapt to any style of music sets him apart from many other guitarists and is the principle reason why Tony's name is consistently near the top of the 'must have' list. Just ask Annie Lennox, Jack Bruce, Pee Wee Ellis, Mick Hucknall, Glenn Hughes, Craig David, etc. why they called him and the answer will always be the same – "Tony Remy delivers!"
Live on stage, his relentless invention and incredible raw energy can set the crowd on fire.The reputation he has gained within the jazz community worldwide is fast making a legend out of this North London musician.
Tony started his professional music career in 1986, although he was on the Jazz scene earlier. He recalls: "I had a band called 'Cube 60' in 1984 with Winston Clifford, Joe Bashorun and Nick Cohen. We were crazy about Miles Davis, Weather Report, Steps Ahead (a.k.a. Steps) and the Brecker Brothers, so we were writing and playing that stuff. I even had a rock band called 'Secretary Bailey'." he said with a smile.
Then, in 1985 'Cube 60' developed into 'Desperately Seeking Fusion' with Frank Tontoh (Amy Winehouse, Jack Bruce, George Michael, etc.), Joe Bashorun Robin Ashland Nick Cohen Jason Rebello (Jeff Beck, Sting, etc.) and Julian Crampton (Sunburst Band, Dexys, Incognito, etc.). "That was really my first outing as co bandleader." he proudly remembers.
Way before he released anything under his own name, Tony was hard at work as an in-demand session player, contributing quality guitar to albums by London Jazz alumni such as Cleveland Watkiss, Jason Rebello, Steve Williamson, Philip Bent, Roger Beaujolais and Jean Toussaint. Tony Remy's reputation was growing and a certain American Jazz label had taken a particular interest in this young British rising star.
Tony released his first solo album, "BOOF" in 1993 on the American Jazz-Fusion label GRP, home to the cream of Jazz artists and THE label to go to at the time. The album received excellent reviews and established Tony Remy as one of THE names to watch. Jazz radio fell in love with the sheer variety of tracks to draw upon, whilst Tony's touring schedule really began to take him to the next level.
However, following a more autonomous path, in 1997 Tony decided to release his second album "METAMORFOLLOW-G" on his own recently created label, Alltone Records. Tony's playing stretched out even further and allowed his ideas to draw upon many of the different guitar styles which influenced him as a youngster. Guitarists such as John Scofield, Hiram Bullock, Mike Stern, George Benson, Jimi Hendrix and BB King all contributed in shaping Tony's playing, before he began to develop his own unique style.
The roster of artists who Tony has toured and recorded with reads like a veritable 'Who's Who?' of quality musicians. From the Rock & Pop world, he's played with such names as Annie Lennox, Jack Bruce, Steve Lukather, Glenn Hughes, Simply Red, Craig David, M-People, Gary Barlow and Sarah-Jane Morris. And from the Jazz, Funk & Soul world, he's played with artists as diverse as Herbie Hancock, Pee Wee Ellis, Incognito, Jazz Crusaders, Courtney Pine, Freddie Hubbard, Ronnie Laws, Joey Negro's Sunburst Band, Don Blackman, Lonnie Liston Smith, Tom Brown, Kenny Burke, Tony Momrelle (and produced his big band album),
Matt Bianco, Jason Rebello, Lenny White, Julian Joseph, Down To The Bone, David Jean-Baptiste, Lonnie Liston Smith, Keni Burke, Brenda Russell, Cleveland Watkiss, Noel McKoy, Maysa Leak, Omar, Jean Toussaint, US3, Steps Ahead and many, many more.
Amongst the vast catalogue of artists Tony has recorded with are legends such as Herbie Hancock for his 2005 album, 'POSSIBILITIES', supporting Annie Lennox on Paula Cole's , 'Hush, Hush, Hush'. Tony also appears on the Japanese edition of Annie Lennox's 2003 album, 'BARE', performing on a 'live' version of 'Cold'.
Jazz-vocalist and renowned actress, Marianne Jean-Baptiste ( Mike Leigh's 'Secrets & Lies', U.S. drama, 'Without A Trace' and U.K. phenomenon, 'Broadchurch') worked with Tony to co-write the soundtrack to Mike Leigh's 1997 movie, 'CAREER GIRLS'.
In 1998, Tony was asked to play on Simply Red's 1998 album, 'BLUE', and followed this up with several live performances for their world tour.
After being a part of the Incognito alumni on the 2005 album, 'ELEVEN', which contained co-written songs from Tony; then the 2006 album, 'BEES + THINGS + FLOWERS', he and co-founder of Incognito, Jean-Paul 'Bluey' Maunick, decided to collaborate on the 2007 album, 'FIRST PROTOCOL', and created a funky, electric guitar and keyboard based collection of songs.
Highlighting Tony's amazing diversity yet again, he created music for an art installation in the medieval castle of Piombino in Tuscany; 'Without Borders' composition, 'Solitude' allowed his music to enhance the visual aspects in a truly magical setting.
One of Tony's most recent successes is his work as co-writer, producer and musician on eclectic vocalist, Sarah-Jane Morris' 2014 album, 'BLOODY RAIN'. Featuring amazing co-musicians such as Courtney Pine, Pee-Wee Ellis, Ian Shaw and Soweto Gospel Choir, the album has had glowing reviews and has been toured around Europe and the U.K.
Tony's latest collaboration with Sarah-Jane Morris is the 2019 album of music from the canon of folk hero, John Martyn; SWEET LITTLE MYSTERY' and has already received glowing reviews. The album was a true labour of love to honour John Martyn's incredible body of work and Tony played on, arranged and produced the album. Tony and Sarah-Jane recently completed a triumphant 12 date residency at the 2019 Edinburgh Festival, which resulted in being awarded the Lustrum Award by Robert McDowell.
Tony has also completed work with renowned guitarist, Bernie Marsden, for a forthcoming album of acoustic interpretations of the music of Jack Bruce.
As for the concert stage; Tony played with the legendary, Jack Bruce, as part of his Big Blues Band, performing all around the world for several years, including jamming on stage with Jack and Toto's Steve 'Luke' Lukather. When Glenn Hughes needed an axeman, he called Tony Remy and dug into the Trapeze, Deep Purple and solo catalogue to stretch Tony's chops. Iconic saxman for James Brown; Pee-Wee Ellis, always uses Tony whenever he plays live and tours Europe regularly. Jazz-Funk stalwarts, Matt Bianco, never tour without the dexterity of Tony Remy as part of both their touring and studio band. Quite simply – Tony Remy is in demand.
Tony Remy continues to do what he does best – play guitar! His touring schedule is almost non-stop, but he still bathes in the warm creativity of the studio and is currently putting the finishing touches to his self-produced forthcoming own album, 'IN THE MIDDLE OF BEFORE AND AFTER'. Featuring a stellar line-up of musicians, it will please both fans and those yet to still discover Tony Remy's dazzling talents.
For a full list of Tony Remy's albums and studio performances, check out the 'ALBUMS' section of this website to see an in-depth discography.
To view and buy Tony's other albums go to www.TONYREMY.CO.UK
Tony's SPONSORS are Peavey amplifiers and signature guitars, Patrick Eggle acoustic and electric guitars and Rob Williams guitars.
More Info:
https://www.eventbrite.co.uk/e/tony-remy-trio-live-at-the-verdict-jazz-club-tickets-477242293547
Dress Code: None
Age Limits: Check at venue / lister / promoter's website
Please show your support for these guys and for XYZ Brighton
by liking and sharing, and tagging us at your socials! Perhaps with a lovely photo!

It's a great way to pass info about great deals to your friends!
PLUS we can share your posts / piccies at XYZ Brighton!
Spot a mistake? Tell us so we can fix it ASAP.

Add your events to XYZ's 'It's On' Brighton Event Listings Guide online!