Sidereal Ziggurat! Baby Vanga, Yazmyn Hendrix, Hill, Case Of Us & More!
*IN XYZ BRIGHTON'S EVENT LISTINGS GUIDE*
---
Event Listing Info:
Event categories
Date
25/01/2020-26/01/2020


Prices in £:
£5
Two rooms of music – Bands/Solo Artists/ DJs / and more, live art and other performers
A Dress Code of Ancient-Future! (or whatever u like!)*
Pyramid on stage w/ Projections! * Tarot Readings from…Shuala Lesath (The Eyes of the Cosmic Kat)!
Paint your own Sidereal Ziggurat!
Live painting by local artists… Ella Russel! – Isobel Jones! – Faye Haley! Inter-dimensional News camera crews! *
Strangely Moving Silent Ones and other off-stage performers

Baby Vanga– Quintet Neo-Psych band from South London, UK Single 'Tangerine Daydream' OUT NOW soundcloud.com/baby-vanga

Hill groovy playschool jazz – a brighton sound that makes you shake them dances. New CD album just released! https://hillmusick.bandcamp.com

The Case Of Us prog meets grunge at a disco somewhere between the 60's and the year 3000 – https://thecaseofus.bandcamp.com

DJ Eggs Legs Afro-latin dance tunes from this popular Brighton based groove spinner –  www.mixcloud.com/DJEggsLegs
Downstairs!
Woody Green https://woodygreen.bandcamp.com/releases Yazmyn Hendrix solo a capella artist who uses her voice and a loop station to create a beautiful musical environment. www.yazmynhendrix.com Ciara Gayer New upbeat TripHop direction from this very talented Brighton based siren, mixing with mystery-tinged blues and jazz www.instagram.com/gayerayer

Kianna Blue www.instagram.com/kianna_blue

DJ U.F.Oberon www.instagram.com/abel.oberon +

Tarot from Shuala Lesath (The Eyes of the Cosmic Kat)! www.instagram.com/kathleenmaeve,

Live art from Ella Russell www.instagram.com/ellarussell_ , + Isobel Jones = www.instagram.com/isobeljonesart +Faye Haley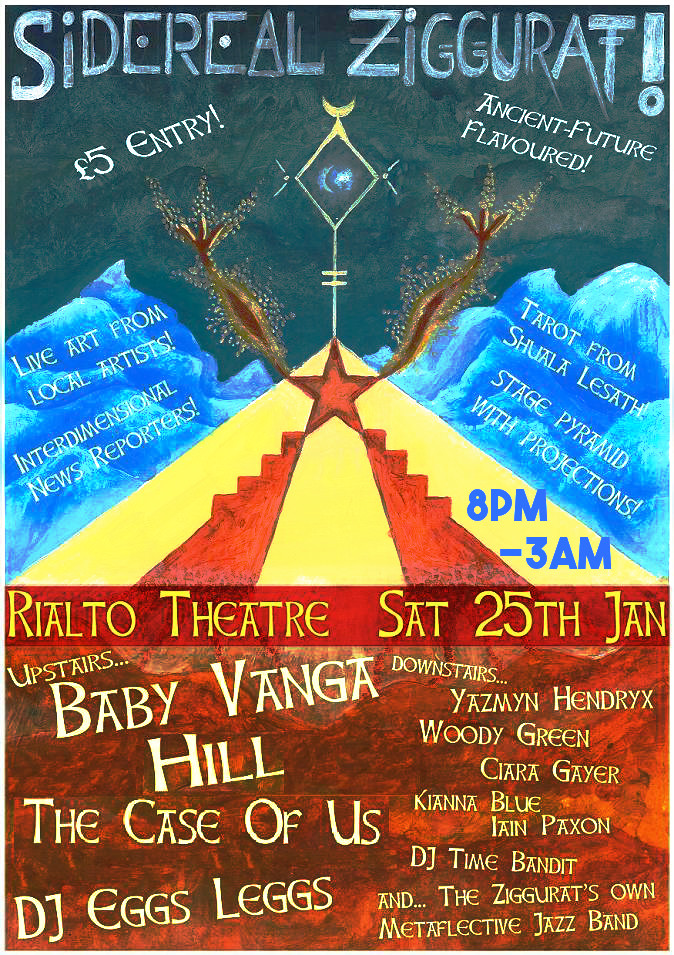 Website:
Full link http://www.website.com
http://www.facebook.com/events/487312635323456

Ticket Link: Full link http://www.website.com
https://thelittleboxoffice.com/rialto/book/event/119194?fbclid=IwAR2JV7AFKjYe2xjDEplCdJ8mzqPEkv9O5ml-oJ_OkdJ_6FTnnxbTF-vyO2A

Venue Website: Full link http://www.website.com
http://www.rialtotheatre.co.uk



Email: inbrightonlive@gmail.com



Talent Website: Full link http://www.website.com




Event Capacity: 150

Dress Code: ancient / future or what u like

Age Limits: 18+


Spot a mistake? Tell us so we can fix it ASAP.

Add your events to XYZ Brighton's event listings online!