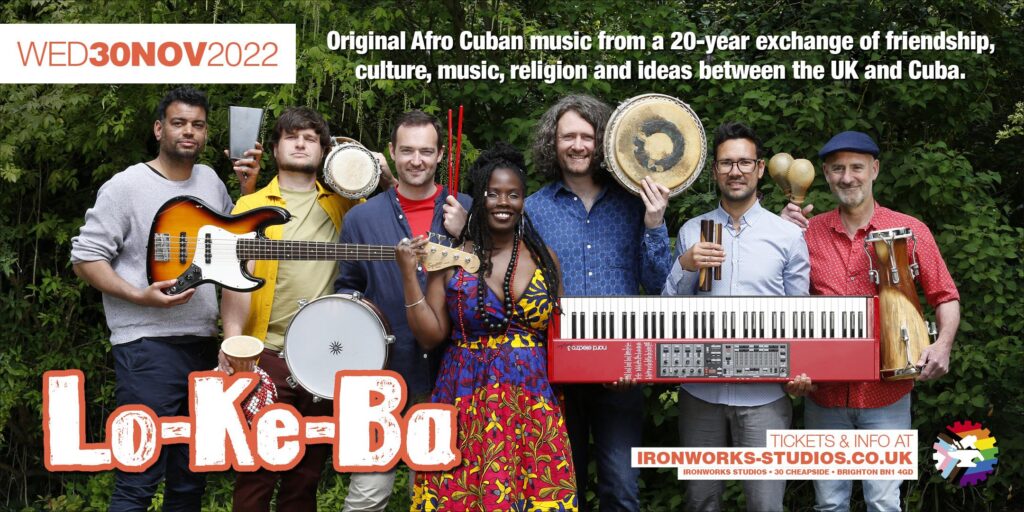 Lo-Ke-Ba Original Afro Cuban Music
XYZ: 'IT'S ON!' EVENTS & OFFERS - *WHAT'S ON IN BRIGHTON & HOVE*
---
Event Listing Info:
Event categories
Date
30/11/2022
7:00 PM


Location / Link: See what's on & more about the venue at the above location page / link.





Original Afro Cuban music from a 20-year exchange of friendship, culture, music, religion and ideas between the UK and Cuba.
Lo Ke Ba and Delirio
Lo Ke Ba is a ten-piece band playing exciting, original, contemporary Afro Cuban music. The music of Lo Ke Ba is a celebratory mix of the beautifully rich range of musical traditions and styles rooted in Cuba. Lo Ke Ba live propels the audience through the worlds of traditional Afro Cuban folkloric music, classic salsa and contemporary timba into the world of Lo Ke Ba – an elegant, energetic combination of tradition and creativity that brings the vibes, makes you dance and leaves you wanting more.

Lo Ke Ba will be playing their new album 'Delirio', live at The Ironworks to celebrate its recent launch which has received acclaim in the UK, the USA and across Latin America.

"…masterful arrangements and feel good vibes that has 'classic' written all over it. Fabulous!" – Songlines Magazine – Jane Cornwell (UK)

"… amazing contemporary Salsa" – Snowboy (UK)

" tremendo tema, rico para el bailador!" DJ Mambin (USA)

"My favorite song is track #1 'La Copa'. This song got my attention from the start" DJ Walter b. Nice – NYC (USA)

Lo Ke Ba is fronted by Adriana Lord and Pedro Enrique Medina, both well respected and loved Cuban vocalists who are well-established at the centre of Cuban music in Brighton. The songs are written by Adriana with percussionist Richard Kensington and pianist Matt Baker with contributions from Santiago "Chaguito" Garzón Rill based in Havana.

The Story:

From 2002, percussionist Rich Kensington journeyed from Croydon to his teacher, friend and mentor Chaguito (Santiago Garzón Rill) in Havana. Ten years after his first trip, he sat on the roof of the Hotel Lincoln listening to what Frank 'El Matador' Oropesa had to say: 'It's good to have spent all of these years coming to Cuba to learn our traditions but now you must make the music your own'. The message from the world renowned bongocero planted the seed that was to become 'Delirio'.

Not long after recording with Rich in the studio of El Septeto Nacional de Ignacio Piñero, Adriana Lord set off on her own journey, from Cuba to the UK. After establishing herself as a singer in the UK music scene, Adriana once again met up with Rich and the pair started writing, joined by Matt Baker on piano.

Matt completed the circle with his own journey to Havana to meet and work with Chaguito on ideas for the album, bringing not only Chaguito's words and melodies, but the events which surrounded their writing, to the songs themselves. *

In Delirio, Adriana, Rich and Matt create eight songs, sung in both Spanish and English by Adriana, about the world as they see it, the lives they have led and the struggles they have encountered, within themselves and between people, under two opposing ideological systems. It's an album that makes you want to move and gives you something to think about.

The Axis Percussion Trio – Rich with Dave Boston (bongos) and Simon Bowhill (timbales) – form the rhythmic backbone to Lo Ke Ba accompanied by Matt Baker on piano. The album features performances from Colombian singer and percussionist Rodry-Go (Mercado Negro), trumpeter Giovanni Siveroni and trombonist Landy Díaz and grooves on a bed of bass provided by Dimitris Christopoulos and baritone saxophonist Nichola Pope.

Delirio was produced by Richard Kensington and Matt Baker in collaboration with Alex Wilson and Eliane Correa. It was mixed and mastered by Jose Mendoza Colmenares (Oscar D' León). The cover design is by Cuban artist, RAUPA.

Connect with Lo Ke Ba here:
Facebook | Instagram | Web | Bandcamp
Click here for more info and shows at ironworks-studios.co.uk
All seating is unreserved.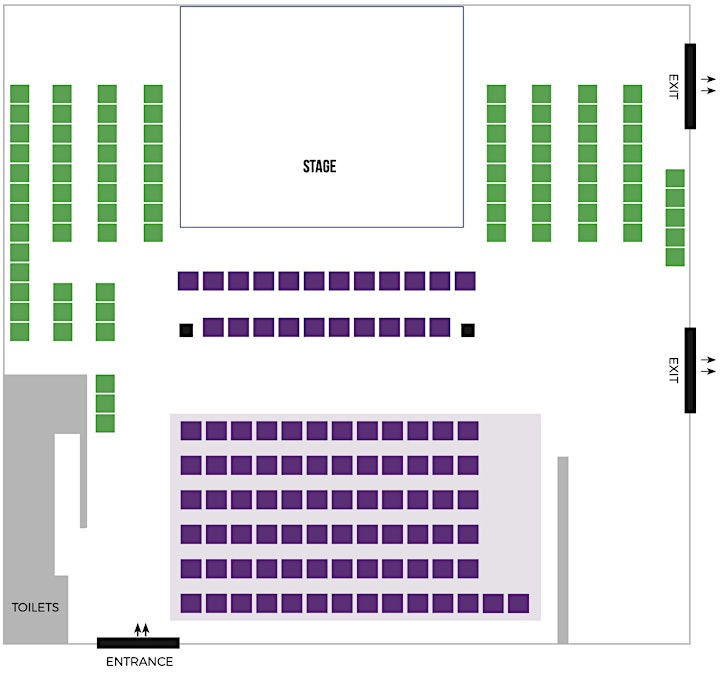 More Info:
https://www.eventbrite.co.uk/e/lo-ke-ba-original-afro-cuban-music-tickets-425652908307
Dress Code: None
Age Limits: Check at venue / lister / promoter's website
Please show your support for these guys and for XYZ Brighton
by liking and sharing, and tagging us at your socials! Perhaps with a lovely photo!

It's a great way to pass info about great deals to your friends!
PLUS we can share your posts / piccies at XYZ Brighton!
Spot a mistake? Tell us so we can fix it ASAP.

Add your events to XYZ's 'It's On' Brighton Event Listings Guide online!