Good news! Breakout Festival is this weekend!!
Brighton's very first and only outdoor heavy rock festival!! Back at Brighton racecourse September 26th, with a killer high profile line-up including Deaf Havana, SikTh, We Are The Ocean, The Qemists, Martyr Defiled and Heck.
Last year's bill included the legendary Skindred, Funeral For A Friend, The Blackout, Silent Screams and Betraying The Martyrs, pulling in over 2,200 fans in its first year to rock out at one of the most memorable rock shows Brighton has seen.
Relive last year courtesy of Bmusic, featuring clips from the almighty Skindred, Silent Screams, The Qemists, Fathoms and InMe. Wish you were there? Here's a little taste of what you can expect this weekend:
http://youtu.be/0D1xst2xqjM
Competition Time!
Get in the mood for Brighton's foremost heavy metal & rock festival, by entering our competition to win two tickets, so you and a friend can soak up one of the most rocking line-ups ever to grace the city!
To be in with a chance of winning tickets, just answer the following question:
Nottingham four-piece "Heck" are just one of the many brilliant acts at Breakout Festival. what's their Facebook url?
Enter by simply signing up to the XYZ Newsletter and then email "JOINED" with your full name, age, address and the name and age of the person you want to take! That's it! The email address is info@xyzbrighton.com subject BREAKOUT. Entries before 25th SEPT.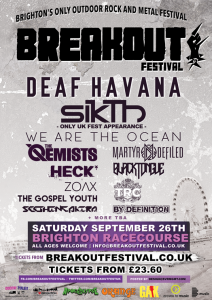 Or Buy Tickets Now
To guarantee yourself a place at one of the best music festivals in the South, just click the link below to buy tickets directly or just £29.50 + bf!!
And don't forget, you can also take advantage of Breakout's special offer of five tickets for the price of four! Treat a friend or buy in a group and split the difference for a cheaper ticket!
Buy at ticketmaster.co.uk
Event details
Venue – Brighton Racecourse (BN2 9XZ)
Date – September 26
Times/prices/info – Doors open at 10am, £29.50 + booking fee, All ages welcome, under 16's MUST be accompanied by an over 21 year old. Under 5's MUST have adequate ear protection on at all times.