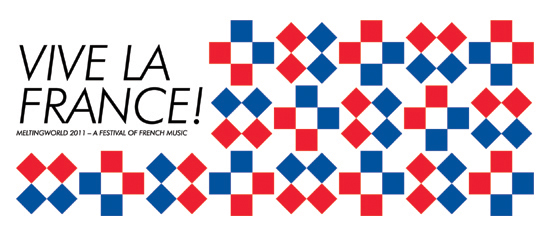 In association with Bureau Export
& Les Inrockuptibles! January 27-29 in Brighton.
Incredibly, most of this festival is COMPLETELY FREE! The couple of shows that aren't are just a few quid and you can secure tickets now at meltingvinyl.co.uk Now get ready, because this is a big one!
Back due to popular demand in their third year, Melting Vinyl present Vive Le France, Brighton's own festival showcase of the very latest up and coming French music, and featuring some huge names on the French music scene!
VIVE LA FRANCE! January 27
What: LAUNCH
Where: KOMEDIA
When: January 27 / 7.30-11pm
Cost:

£7 adv. / £8 on the door

VIVE LA FRANCE! 2011 in association with MANGE TOUT:
Electro/pop LAUNCH PARTY
PUNKS JUMP UP (KITSUNE)
TRANSFORMER
JD THE DJ (LES INROCKS)
+ more to be announced
The launch night takes place January 27th in association with local French cuisine connoisseurs, Mange Tout at Komedia, and proimses a lineup of top acts and DJ's, more due to be announced shortly so watch this space!
PUNKS JUMP UP (KITSUNE)
TRANSFORMER (FRENCH CONNECTION)
JD THE DJ (LES INROCKS)
+ more to be announced
What: CHANSON/ POP
Where: THE BASEMENT
When: January 27/ 8pm-11pm
Cost: FREEVIVE LA FRANCE! 2011 CHANSON/POP STAGE feat.
MELANIE PAIN (NOUVELLE VAGUE)
LA BOETIE (FIRST EVER UK SHOW!)
LES ZUTS (FRENCH CONNECTION)
At The Basement it's about Chanson/ Pop and back from last year LES ZUTS will join rockers LA BOETIE who, drawing diverse influences from The Cure through to Lykke Li, play their first ever UK show this night especially for you!
Nouvelle Vague's MELANIE PAIN will also join the line up with her breathy vocals to complete a french feast you won't want to miss out on. Get there on time and it's free entry. Melanie Pain

La Boetie
What: AFTERPARTY
Where: PLATEAU (New venue, 1 Bartholemews, Brighton, BN1 1HG)
When: January 27
Cost: FREEVIVE LA FRANCE! 2011: AFTERPARTY feat.
MELANIE PAIN (NOUVELLE VAGUE) & FRIENDS DJ
MELANIE PAIN continues the night with a DJ set at Plateau's. Expect a peek into her special record collection, where she'll spin out the vintage classics from old school pop to the best of the 60's, 80's soul & rock, all with a sassy French twist! And it's Free Entry!
myspace.com/melaniepain
VIVE LA FRANCE! January 28
What: The Basement
Where: World Music/ Hip Hop
When: January 28 / 8.00pm-11pm
Cost: FREEVIVE LA FRANCE! 2011 WORLD MUSIC/HIP HOP STAGE feat.
KKC ORCHESTRA & FREDY MASSAMABA
This act has everything and can't wait to show it off. KKC ORCHESTRA.
Back in Toulouse a drum'n'bass DJ, a pianist, a swing guitarist and a rapper fused their musical styles to achieve not just a sound but a new world for their audience where hip-hop, breakbeat and swing fuse and spring off of one another in a unique blend that's about seeing and feeling as much as it is hearing.
FREDY MASSAMBA has worked with artists such as The Roots and Mos Def and shares a smooth blend of soul, hip-hop, funk and African chants. His work traverses love and life; both yours and his and this venue makes for the perfect backdrop for this live performer. It's free entry from 8pm, subject to capacity so don't be late.
myspace.com/fredymassamba
myspace.com/lekkcorchestra
Fredy Massamba

What: INDIE/LEFTFELD
Where: The Hope
When: January 28 / 7.30pm-11pm
Cost: £5 adv. £6 door
ticketweb.co.uk / seetickets.com
Rounder 01273 325440 / Resident 01273 606312 / Dome 01273 709709VIVE LA FRANCE! 2011 INDIE/LEFTFELD STAGE feat.
ANORAAK, KIM, KID BOMBARDOS, JOHN D'RANGE DJ
Hotly tipped ANORAAK's music marries Chill Wave with Italo disco, Motown-schooled soul and sepia-toned pop. It will make you feel good and bad at the same time, prepare to be moved! Another unique act, KIM, has wowed European audiences with a style which purposefully avoids short-lived musical fashion, instead working the best of folk and electro into music different to anything else on the scene at the moment. KID BOMBARDOS have done the festivals of Bordeaux and the clubs and concert halls of Paris, and now they bring their infectious brand of Velvet Underground-influenced music to The Hope. Finally, JOHN D'RANGE, the French alter ego of founder of influential club night DARK PARTY, showing off the contents of his extensive collection of French pop/alt/disco.
myspace.com/anoraak
myspace.com/kimlive
myspace.com/kidbombardos
darkpartymusic.blogspot.com
Anoraak

What: AFTERPARTY
Where: Plateau, (1 Bartholemews, Brighton)
When: January 28
Cost: FreeVIVE LA FRANCE! 2011: AFTERPARTY feat.
JD the DJ (Les Inrockuptibles) & Friends
Back after the VIVE LE FRANCE launch party, JD the DJ and friends shape the party at this more intimate after-show.
lesinrocks.com

VIVE LA FRANCE! January 29
What: INDIE/ELECTRO
Where: The Hope
When: January 29 / 7.30pm-11pm
Cost: £5 adv. £6 door
ticketweb.co.uk / seetickets.com
Rounder 01273 325440 / Resident 01273 606312 / Dome 01273 709709VIVE LA FRANCE! 2011 INDIE/ELECTRO PARTY feat.
HOUSSE DE RACKET
THE WOO! WORTHS (FRENCH CONNECTION)
CURRY AND COCO

Cool cats, the Parisian HOUSSE DE RACKET know how to pack a dance-floor and plan to shake the walls at The Hope with their very own stadium synch pop, whilst Brighton's own and XYZ favourites, The WOO!WORTHS (from London/ Brighton/ France) provide their harmony-heavy electro for the mix. CURRY & COCO join us again this year bringing music from 'in their dark and dirty basement in Lille' to Brighton via the rest of the world. Don't miss this line up packed with rising stars.
myspace.com/houssederacket
myspace.com/thewooworths
myspace.com/curryandcoco
Curry & Coco




What: LATE NIGHT SCREENING: DELICATESSEN
Where: The Duke of York's Picturehouse
When: Saturday 29th January / 11pm-1.30am
Cost: £6 adv. / £7 on the door:
Duke of York's Box Office: 0871 704 2068 / Resident 01273 606312 / Rounder 01273 325440 picturehouses.co.uk/cinema/Duke_Of_Yorks/ or ticketweb.co.ukVIVE LA FRANCE! 2011:
Exclusive late night screening of DELICATESSEN
+ live performance from CHAPELIER FOU

A Festival of the French would not be complete without a late night screening of Cult French cinematic excellence; Delicatessen. Directed by Jean-Pierre Jeunet (of Amelie fame) and Marc Caro, this stimulating black comedy is set in a post-apocalyptic apartment block in France, and begs the question of the viewer: "What would you be willing to do if food was a rare commodity?"

What: AFTERPARTY
Where: Plateau, (1 Bartholemews, Brighton)
When: Saturday 29th January
Cost: FREEVIVE LA FRANCE! 2011: AFTERPARTY feat.
GET YOUR ACTS TOGETHER & FRIENDS DJS
Rounding off an overflowing Frenchy of a festival, GET YOUR ACTS TOGETHR DJs & friends take to the stage at Saturday's Plateau Afterparty.
Taking a break from their endless globe-trotting travels with the likes of Nouvelle Vague, Melanie Pain, Phoebe Killdeer, they're flying in for a one-off set especially for you. Expect a collection of their favourite French tracks to close the show. They will be joined for this unique celebration by a whole host of special guests including Vive La France! and Oui Love DJs.
getyouractstogether.net