Reader Events – Simple Minds @ Brighton Centre; Mon Apr 8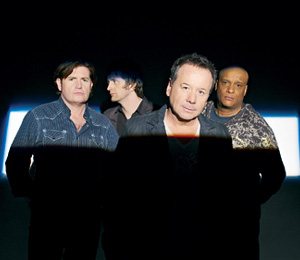 As music evolves, reputations shift and are often revised. After many years of being derided as a bloated, self- important, irrelevant stadium rock band- Simple Minds dazzled audiences last year with a world tour that featured songs exclusively from their glorious first five albums, and the new gold dreamers decisively re-ignited their mojo. The songs reminded many of what a truly innovative and fascinating proposition they are- with fractured rhythms, pulsating beats and angular guitars creating a sometimes malevolent wall of sound- which has influenced generations of bands from the Manics to Franz Ferdinand.  They're touring again now- with a show that combines the delirious, experimental grandeur of their early years- with the more conventional anthemic rock moments from their expansive back-catalogue.  It will be interesting to hear how the pulsating hypnotics of, "I Travel", sound alongside the Springsteen-esque rock gospel of, "Sanctify Yourself" and so on, and early reports describe a band firing on all cylinders.  Whilst purists insist the band fizzled out creatively following, "New Gold Dream", there are plenty of moments on future albums that showcased a unique and inventive interpretation of the rock sound.  If you want to know where Coldplay may have got their ideas from, you should check out the Minds' sixth album, "Sparkle in the Rain"- which is no bad thing as it's up there with The Bunnymen's, "Ocean Rain", and The Chameleons' cruelly under-valued, "Strange Times", as recordings that brazenly rejuvenated rock music.
Simple Minds play the Brighton Centre on April 8th. Tickets are available from www.seetickets.com and all the regular outlets.