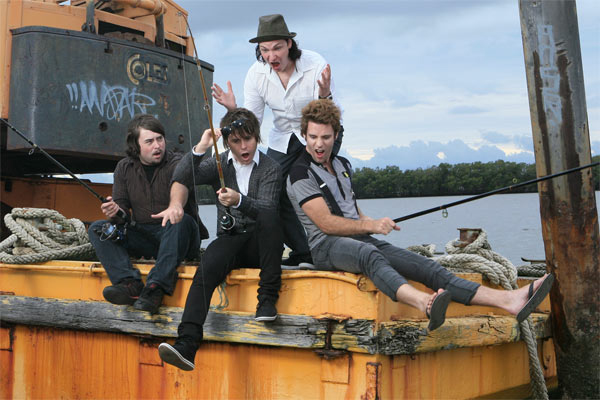 Get your diary out and take note: Australian music makers Hungry Kids From Hungary are set to light up The Great Escape with their sunny and carefree pop. After the successful EP Mega Mountain last year, they have been earmarked on their ascent, with commercial approval from America's mainstream, after single 'Scattered Diamonds' was featured on programmes Grey's Anatomy and Ugly Betty.
Influences include many a band keen on the definite article: think The Beach Boys, The Beatles, The Shins. Hungry Kids From Hungry will be eager to mark themselves out from these predecessors by more than their name choice, however – after a turn supporting Little Birdy, they have been touring recently on their own Air Sick tour.
In interview singer Kane Mazlin has attempted to explain the name: "We tend to just make up funny stories now because we just don't have a very interesting story. But we've had a bit of hate mail from it. We started a little war on YouTube, Romanian guys saying 'oh no, our country is better than Hungary!' It was like twenty comments of back and forth like that, it was really weird."
Patriotism and cultural jokes aside, these guys don't take themselves too seriously, and neither should you. Whack a shrimp on the barbie and check them out at The Great Escape.  Their new single 'Scattered Diamonds' wlil be released in June.
Tickets are still available from escapegreat.com
myspace.com/hungrykidsofhungary