Brighton Music Conference, Brighton Dome and various Brighton venues, 5&6 June 2015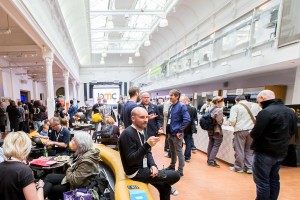 Following a hugely successful debut in 2014, Brighton Music Conference (BMC) returns to the UK's South Coast city for a two-day event on 5th & 6th June 2015. Reflecting the concept behind BMC, tickets are split between BMC Professional (for industry professionals) and BMC Academy Pass (for students and non-professionals); full details can be found below.
The UK's only electronic music conference, BMC 2014, was hailed as a groundbreaking success by leading music artists, producers, industry figures and students alike. 2015's event expands BMC's unique offering. BMC Professional aims to connect music with business, bringing together industry thought leaders through a series of panels to discuss the future sustainable growth of the electronic music industry, targeted networking events and access to the evening schedule of three nights of events and parties across Brighton, with DJ Magazine hosting the official closing party. BMC Academy is about plugging in the next generation and fostering new talent via a series of master classes, panels and talks. Both tickets give access to a two-day exhibition with tech showcases panels and interviews.
The Brighton Music Conference will run from 10am to 5-30pm on Friday 5th June and 10am to 5pm on Saturday 6th June 2015.
Ticket Types:
BMC Professional
· Early Bird £79 purchase deadline 31st March
· Normal £99 purchase deadline online 4th June, 5pm
Aimed at experienced industry professionals, tickets include:
•A two day conference for the Electronic Music Industry featuring insightful panels, and trend discussions with the scene's leading players
•A two day exhibition with tech showcases, panels and interviews
•BMC Academy master classes and talks
•Access prior and during the show to the BMC networking tool enabling you to create meetings with your fellow delegates
•Live showcases of up and coming talent
•Access to the mezzanine bar over the two days
•Entry to networking events each evening
•Plus BMC endorsed club events on the Thursday, Friday and Saturday night (Entry for each venue is on a first come first served basis subject to each venues BMC capacity)
BMC Academy Pass
· Early Bird £10 purchase deadline 31st March
· Normal £15 purchase deadline online 4th June, 5pm
· Walk Up £18
•Aimed at those just starting out or looking to break into the industry, aspiring DJs/Producers and Dance music fans
•Two days of master classes, panels and talks
•A two day exhibition featuring 60 exhibitors with music tech showcases of the latest equipment, technology and services plus Q&A's and interviews covering all you need to know to be successful in the industry from DJing and production, to sound, event management, piracy-prevention, marketing, and new technologies
•Live showcases of up and coming talent
Group Tickets for Education providers: £10 above 8 tickets
More info on brightonmusicconference.co.uk