Boss Sounds, Royal Pavilion Tavern, Sat 1st December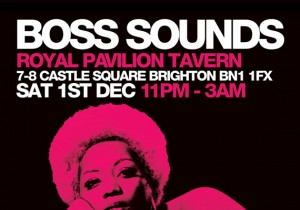 BOSS Sounds is Brighton's new monthly funk/soul/hip-hop/reggae/afro-beat mash up taking place at The Royal Pavilion Tavern (PAV TAV) on Saturday 1st December.
Expect eclectic and upbeat tunes from Ghana to Jamaica, New York to Detroit.
Add to this the low, low door tax of £2 and ridiculously cheap drinks and this is a party waiting to happen! 11pm – 3am.