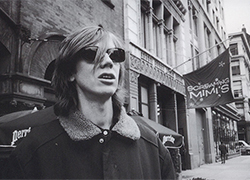 Former Sonic Youth frontman, punk poet and legend of the underground Thurston Moore curates and performs at an evening of improvised sound and words at The Blind Tiger.
There are few names in rock's history that command as much respect as Thurston Moore, and fewer that have reached circles as wide as poetry, film soundtrack and music video directing, as well as reaching great heights on lists of the greatest guitarists of all time. Take all that repute and know how, assemble a one-off group of fellow musicians and poets and you have The Blind Tiger's upcoming show, where far-out jamming threatens to overshadow lyrical experimentation, and vice versa.
After last year's collaboration album with Yoko Ono and Kim Gordon, YOKOKIMTHURSTON, as well as the first LP under new project Chelsea Light Moving in March, you'd think Thurston Moore would either be midway through promotion or well out of steam. Instead, true to form for a figure of the underground, Moore continues to push creativity into fresh and unpredictable avenues. At the Blind Tiger, he teams up with local singer and 'cassette mangler' Dylan Nyoukis to pair crazed sampling with his own legendary guitar work and wordplay as one of three specially selected and oddly monikered collaborations. His and Nyoukis' own 'Lucifer Duo' is joined by the 'Galacto Fidelity Duo' (made up of Moore's longterm creative ally, writer Byron Coley, and comic book artist/music journalist Savage Pencil) and 'Sub Dwellers Duo' (poet Lauren Naylor and Karen Constance – Nyoukis' other half from their experimental/industrial sound project Blood Stereo).
Overall, expect a night of some of the most far out experimentation with lurid lyrics, found and underground sound and their cataclysmic interactions, with the dependable overseeing of the underground's longterm godfather.
£8 adv or £10 on the door, 18+, 8pm.
Head to blindtigerclub.com for more information and to buy tickets, also available from Resident Records.
https://soundcloud.com/thurstonmoore/benediction