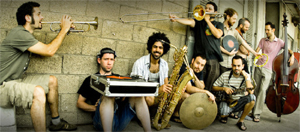 Start off the month with Tel Aviv's finest in vinyl-scratching, quadruple-horn-tooting jazz funk at the Blind Tiger.
Ever wondered what Rage Against The Machine's "Killing In The Name Of" would sound like re-imagined by an Israeli nine-piece jazz-funk band, replete with four-deck mixologists and samplers? Well now you don't have to! The Apples' much-lauded cover version from 2007 boasts a moreishly digestible representation of their eclectic sound – bona fide belting brass with a groove-heavy rhythm section and dextrous live turntablism from two experts on the decks. Funky breakbeats coalesce with tootin' harmonies and mean double-team scratching, but elsewhere in the band's oeuvre the kind of Western funk, jazz and rock tropes used in "Killing" also combine with a melodic Middle Eastern sensibility. It's a heady jam of rhythm and rag-time.
All the more thrilling live, The Apples have mastered a show-stopping hold over pre-recorded structure and live improvisation. The chiefs of the decks layer out the ad-lib flows of the brass and rhythms section with extended edits of songs, rewinding and cutting up the groove, while the live instrumentation remains fresh and funky. If you catch one Middle Eastern fusion band this May, let it be The Apples.
Support from "good time party hip hop" band Almighty Planets.
£12, 18+, 20:00
See playgroupbrighton.org for more information.