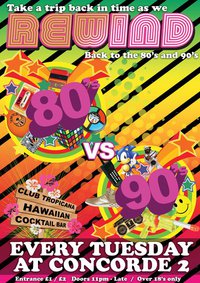 Every Tuesday @ Concorde 2
Launched as Brightons biggest weekly themed retro night, their resident DJs promise a mash up of the best 80's and 90's hits all night long. They tell us "If you hate clubs full of idiots and agro giving you grief, then Rewind is the place for you. Just happy people dancing to amazing tunes."
FREE entry + FREE Shot B4 12.30 if you write your names on their facebook wall!
£1 NUS after 12.30 / Facebook guest list£2 NUS all night
£3 Others
REWIND PARTY BUS: Need a ride?  No problem – the REWIND PARTY BUS runs every 15 minutes from Brighton Pier to Concorde 2!
▀▀▀▀▀▀▀▀▀▀▀▀▀▀▀▀▀▀▀▀▀▀▀▀▀▀▀▀▀▀▀▀▀▀
☆ DRINKS DEALS ☆
They're also offering drinks deals:
£2 Selected Pints
£2 Jägerbombs
£2 Spirits and a splash (vodka & JD)
£1.50 Shots (Tequila & Sambuca)
£4 for all cocktails or 3 for £10
All other drinks will be cheaper than normal weekend prices and all the deals will run ALL NIGHT!!!
▀▀▀▀▀▀▀▀▀▀▀▀▀▀▀▀▀▀▀▀▀▀▀▀▀▀▀▀▀▀▀▀▀▀
Join the group for photos & latest info.