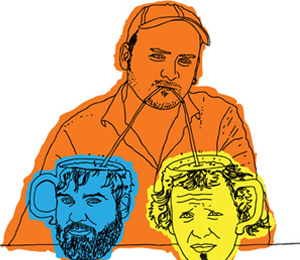 Heavyweights from the folk-dominating Fence Collective unleash plucking hell on the Blind Tiger: James Yorkston's wordy trills versus "the Scottish Bon Iver", The Pictish Trail.
It's been years since England's Marlings, Flynns and Mumfords squared off their rustic banners so successfully to pop music's landscape. But every step of the way, and long before it, Fife's Fence Records have been setting the pace for their brand of palatable, pop culture-savvy singer-songwriting with that irresistible rural twang, and lyric books full of Celtic tradition and observational precision.
One of its earliest members, James Yorkston, was also picked up by Domino Records after supporting the preeminent 70s folk pioneer John Martyn. His canny lyrical hold over the human condition, together with a fondness for varied arrangements – teaming up with Kieran Hebden (better known as Four Tet) for his 2004 breakthrough Just Beyond The River – have seen him embed a solid place on both record labels' rosters. He released his tenth LP, I Was A Cat From A Book on Domino last year, and continues to dominate folk circles from Fife to the Brecons, where he played the inaugural Green Man Festival, and London, where he was made Musical Director of the BBC Proms in 2007.
Spearheading and running Fence Records alongside the similarly grizzled bard King Creosote was Johnny Lynch, aka The Pictish Trail. His 2008 album Secret Soundz was its most successful release to date, and was followed in January of this year by "Secret Soundz, Volume 2", a highly acclaimed set of self-reflections recorded on the Isle of Eigg. The follow-up also demonstrated a savviness of electro-pop touches visible in Lynch's work since his 2010 collaboration with Adam Ilhan as Silver Columns.
Alongside Seamus Fogarty, who released his debut God Damn You Mountain last year, the pair of seminal chin-stroking strummers will present an unmatchable masterclass in thoughtful, verbose acoustic music, not to be missed.
£14 adv + BF, 18+, 19:30.
See the event Facebook page for more information.