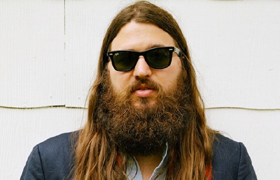 Virginian beardy man Matthew E. White brings his highly acclaimed Southern gospel-infused Americana to The Hope for a rare, intimate romp.
Having just been made one of the most promising signings of indie giant Domino Records, Matthew E. White is well on track to complementing the high critical acclaim of his 2012 debut Big Inner with some well-deserved commercial success. This makes catching him at a pub on Queen Street a rare opportunity to experience his blissfully all-encompassing fusion of country rock and New Orleans funk.
The Virginian put the record together in a first effort from his own musical collective 'Spacebomb' – featuring a sizeable, fluctuating house band and a gospel choir. The result is a tightly-wound haze of softly swung percussion, guitar and keyboard textures with strong gospel overtones that nevertheless transcend their strong religious origins (and White's explicitly evangelical lyrics). White's story, and his beardy shadow, remain ever-firm in the record's diverse arrangements, but the pent-up precision of the players weaves together a tight package of wholly palatable Americana.
His show at the hope then sets to be a hairy, hoary jam. (Though frequent reference to his facial hair might sound gratuitous, its sheer volume frames his music as it does his face – a warm, fuzzy embrace of sweaty intimacy.) Catch him this close up while you still can.
£6.60, 20:00-23:00
See www.drinkinbrighton.co.uk/hope for more information.