Showcasing unsigned musical talent from across the UK, the 'Red Stripe Music Award' offer unsigned artists the chance of securing slots at three of this summer's most celebrated festivals including Brighton's very own 'The Great Escape'. Boasting itself as 'completely and utterly unbiased to trends the 'Red Stripe Music Award' are true to their word. Although not quite WOMAD the promoters certainly went to an extra effort to offer something more diverse than the forefront of Brighton's 'indie pop' epidemic.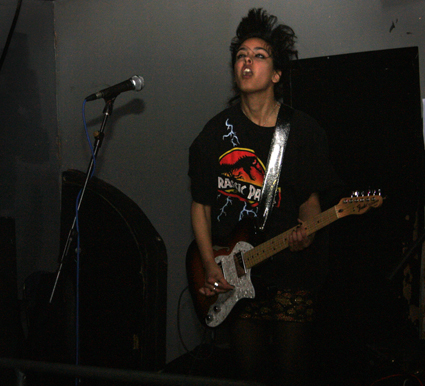 Two piece act 'The prjct myhm' kicked off the show, multi-mentalist Captain Crunch was in charge of grimy dubstep drops while the lyrical bluntness of MC Princess Sections ensured all the underage kids in the room puked when she announced "you want my DNA dumpster that's what you gona' get." Just a bit more onstage unity between Princess and the Captain might've been what was needed to cement their brave and undeniably interesting concept.
Next up were ethereal electro pop act 'The Blueskies', demonstrating intellectual harmonies and a fantastic gizmo that apparently turned the guitar into a violin, they were enough to win over any music geek in the crowd. A futuristic live soundscape with soulful yet withdrawn vocals makes them possibly the closest thing you could get to a soundtrack for a particularly emotional episode of Star Trek.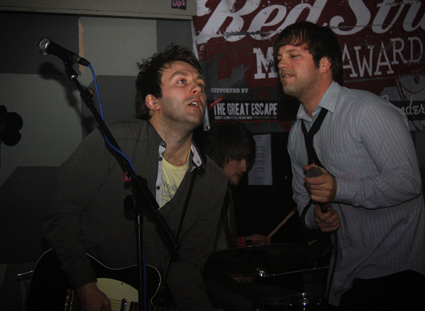 'BangBangBang!' however left the greatest impression of the night; it wasn't so much that their predecessors lacked anything but possibly because furious, three-chord, guitar rape from the '90s seems brutally superimposed on the bureaucratic debauchery of the sheepishly coined 'noughties'. The female fronted grunge trio, tantrumed and stomped all over the stage unfortunately receiving little sympathy from a decidedly pastoral looking crowd who perhaps would have been considering the practicalities of on-stage safety belts had they not already been busying themselves queuing up for ear plugs.
No, seriously, as we all know too well now, health and safety is the essence of happiness, and as the front man of final act 'The Die Vibes' vigorously yanked at the rail dividing him from the crowd I didn't feel I could totally condone his risqué behavior. With Ricky 'Kaiser' charm and a chirpy wink for the audience, they are most definitely a peoples band. So long as they keep their fringes beautifully aligned these boys have all the ingredients of perfect pop prowess.
Words by Will Gore
Photography by Liz Chambers