LIVE: Black Lips
Audio, 19th February 2009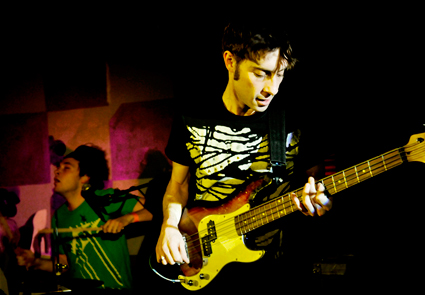 For one night, and one night only, Brighton's Audio is transformed into a 1950s school dance, filled with 'drapes'. Bad kids, leather clad, jeans clad, excited and sweaty. It's chaos; both band and audience are kicking up a ruckus. Beer is spilled on either side of the fence; various sorts of liquid delights are being spewed all over the place. No doubt, Atlanta's Black Lips have rolled into town. The badass quartet has been rocking the scene since 2000, having since released four albums on always hip labels. The band is most definitely on it. With a huge following and a much-deserved respect from any half serious music fan, their sound is greatly appreciated. And that much at least is easily understood by the way in which the crowd react to their presence onstage.
After a not so impressive, but still quite "nice" support act, Black Lips waltz into a room buzzing with adolescent excitement. The stench of sexual frustration and beer hangs heavy in the air and everyone holds their breath as the band begin to tweak and fiddle with their instruments. Suddenly, the noise is out, and the drinks are spilt. A gentle shower of Foster's douses everyone in an extra layer of dew as the band start to kick out the jams.
The set is a real pleasure: a selection of golden oldies from the first three albums, which get bodies flinging, flying through the air. New single to be released, 'Short Fuse', off forthcoming album '200 Million Thousand', has the obvious effect of new material, although a fair few fans mutter along to some of the lyrics. 'Starting Over', another newbie, is played, and the audience like it. A lot. It has a charm, a teen charm, which could perhaps explain its taking over the young bods in the crowd. However, it is clearly tracks off their most celebrated album yet, 'Good, Bad, Not Evil', that send the crowd into an insane mosh of folie and ecstasy. A slower rendition of 'O Katrina' is greatly appreciated, and when the first chords of 'Bad Kids' come into play, a solid wave of emotion takes hold of the room.
Maybe it's their "give a fuck?" attitude, maybe their good looks, or maybe it's just that what they do, they do bloody well. Whatever it is, it's in us, and it don't have no name.
Words by Lucy Tesco
Photography by Carl Thomson