Brighton Centre, December  17th 2009
It's 8pm, I'm in the Brighton Centre and we may or may not have just spotted Hayley Williams at the side of the stage watching the support bands, disguised craftily wearing a big hoody. Looking back it's hard to tell if it was her or not but it was then that it hit me; you can't get much bigger than Paramore right now. The hype is unbelievable. Kids, young adults and parents all stood for hours chanting to be let in and screaming every time someone opened or closed a door on the inside (one can only presume the sheer hysteria had convinced them a band member was behind it). Once we had snuck past the hundreds of screaming teenagers queuing around the back of the Brighton Centre (and we're talking all the way past the Odeon, past the Holiday Inn and past the back entrance) we were left, watching the support bands, in a period of quiet reflection. Paramore are all aged 20 or 21 and they have already established world domination. Now, especially if you are under 25, this could make you feel a little bit crap whatever you have managed to accomplish.
It is their acoustic and live sets (available on YouTube) you need to see to fully appreciate their skills, which would make even the strongest musicians wince into a spiral of woe and envy. Don't be fooled by the pop NME image; no matter how much they might grate on you, even if they are not your type of thing and regardless of the unfortunate stereotype of fans that are associated with such an act, they are truly talented musicians. Hayley Williams is up there with the potential greats when it comes to lung power and stage presence, and the rest of the band (especially the lead guitarist Josh, who our lead singer never fails to give a special mention to) all smash it at live gigs. Paramore live is a guilty pleasure.
As far as the music goes, the album title 'Brand New Eyes' is a clear indication that something is changing (although, some of it remains a bit 'the same'). They are starting to find some sort of developed sound, with influences, and sparks, and generally exciting ideas. Particularly, have a listen to 'Misguided Ghosts', a mellow and unexpected track with a beautiful guitar and lyrics – pretty haunting for a MTV pop-rock band. It makes you think maybe, just maybe, one day they will be more than just fantastic role models for impressionable young emo-punk-rockers with an edge and create a record that is truly magnificent.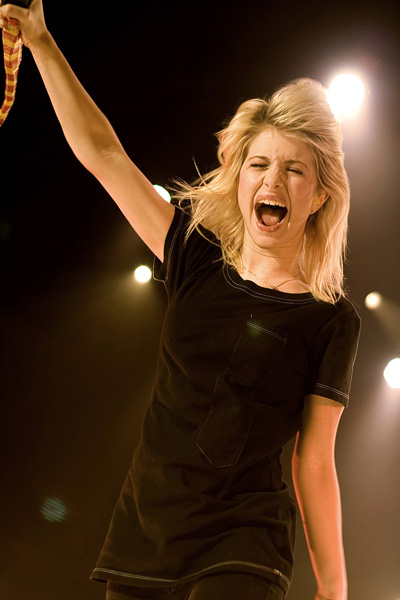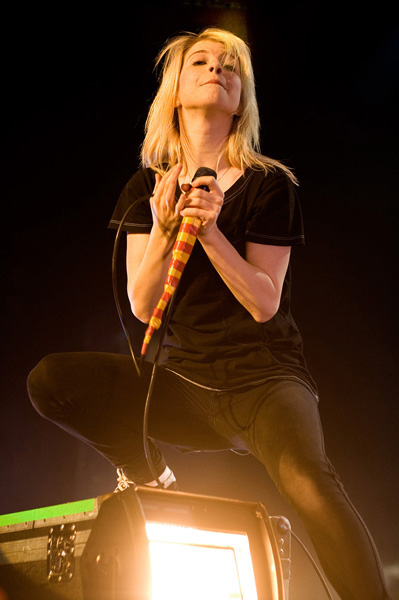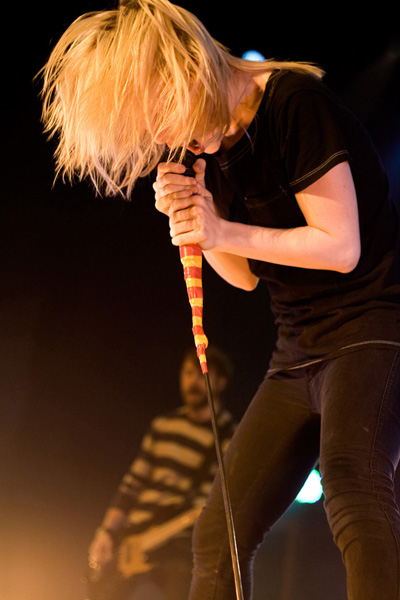 Words by Kate Elliott
Photography by Ruby Allcock
myspace.com/paramore
What did you think of the gig?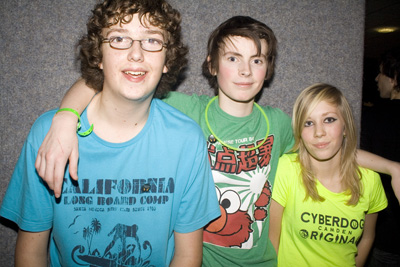 (Left to right), Josh, Aaron and Amie: "'Misery Business' will always be a classic, I'm so glad they aren't bored of playing it yet. Awesome"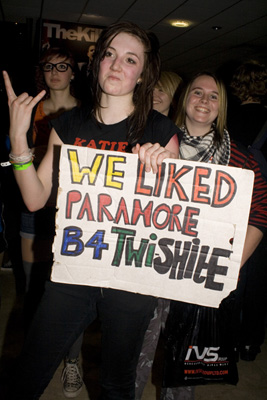 Katy: "I'm taking this to Wembley"
If you can't read that it says 'We liked Paramore before Twi-shite'. This is referring to the film Twilight being the anchor for their emo-tional fan base. We think Katy's a legend and we know Hayley did because we saw her smirk at the banner.