The Borderline, 16th December 2008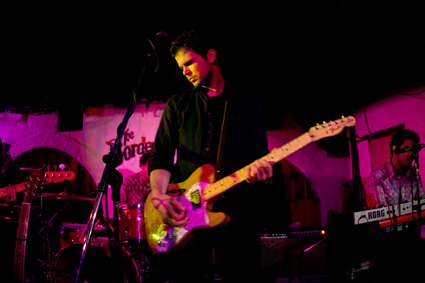 There seems to be something of an indie-rock revolution happening in Canada these days, thanks in part to generous public funding for musicians and a thriving, confident domestic scene.
Wintersleep
, a Nova Scotia, Halifax-based five-piece whose indie/alt-rock recipe has begun to amass a solid following on both sides of the Atlantic, are the latest in a line of bands that have successfully made the journey across the pond. XYZ's Carlsson ventured into the West End on a cold December evening just in time to catch the band perform the last show of their 2008 European tour at London's Borderline club.
The Borderline is traditionally a rock venue, and as such provided the perfect setting for the full
Wintersleep
experience. Having played two blinding shows in London earlier on this tour, the expectation and anticipation from the crowd was noticeable and justified. When Campbell, Murphy, D'eon, Bigelow and Samuel took to the stage the general consensus was that we were to be exposed to something great, and Wintersleep was about to rise monumentally to the challenge. From the spaced-out introductory riff of set opener "Miasmal Smoke & the Yellow Bellied Freaks" the show took on the momentum of a 100-foot tsunami, drenching the Borderline in an intense wall of sound only dispersed by the clever and frequent dynamics for which Wintersleep have become renowned. The sound was perfect, despite the band having no soundcheck, and when the opening track subsided and was quickly followed by crowd favourite "Archaeologists", every single person in the venue was sweating. Wintersleep's strength lies in their strong, well-crafted songs that ooze northern hemisphere melancholy and introspection meshed with infectious, uplifting hooks that stay imprinted from the first listen. Tonight they effortlessly extended and improvised sections here and there with such ease as to suggest they have been living on the road for the last ten years. Other fan favourites such as "Oblivion" and "Laser Beams" became shining beacons for live music and all it should be.
By the time they rounded up the show with a massive version of "Nerves Normal, Breath Normal", few people would disagree that they had just witnessed one of the best gigs of 2008. The band performed like seasoned pros and displayed a symbiosis unmatched by most of the established monoliths of popular music. On this particular night,
Wintersleep
made it seem as though there was nothing else, nor had there ever been.
Words by Carlsson Samuelsson
Photography by Andrew Brandse