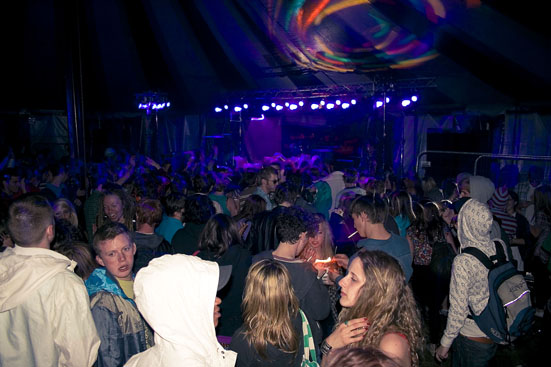 What better way to kick of the start of the summer than with an unexpected one-day festival featuring some of the finest acts from a range of genres. As the festival filled most people seemed content to simply chill in the sun and soak up the music bleeding from both tents while a variety of live acts played across three indoor venues.
On the main indoor arena Peggy Sue pulled in a sizeable crowd with her wailing voice and gaggle of instruments – a glockenspiel, ukulele, and best of all a washboard all appeared. With stomping drums driving the set it was the percussion section that kept the show alive, the pounding tribal finale of an unnamed new tune being a perfect example. In the Live N Kicking arena local band Drookit Dogs put on a good show, the spoken word tune (Love Is A Sitting Chair?) worked well although throughout the set the banjo was often lost in the mix. In contrast in the 'Massacre' arena Light Captain Dark Captain played an acoustic geek-rock show that excepting the occasional impressive harmonica work was best described as beige.

As dusk loomed it became all about the dance tents as people piled in to the sounds of d&b maestro Blame, dubsteppers Hatcha and N-Type and filth mongers Noisia ad Andy C. Talking to Kissy Sell Out it was clear he was extremely conscious of the commercial crowd. This seemed to be a common mindset across the DJs as well known tunes got reloaded time after time throughout the day. High Contrast's 'If We Ever' received the same gleeful reception during both Blame and Andy C's sets while the Skream remix of La Roux's 'In For The Kill' provided a set opener for both JFB and Hatcha, each occasion causing a flood of people to run for the tents. Even king of the drum & bass DJing world Andy 'The Executioner' C succumbed, albeit it with a little more style than most. 'Twist em Out' for example (you know, the one from the Ali G show..) appeared with it's distinctive synth-line, instantly took a backseat to another tune then was quickly mixed out altogether. Just enough to drive the packed tent absolutely crazy.

While the commercial aspect may be a problem for some (the w**kers next to me who repeatedly shouted and mocked people for cheering tunes for example) it was this that made the atmosphere and the day as good as it was. 4000 people in a field on a nice day who just wanted to have fun and dance to good music and Unifest delivered exactly as promised. The perfect summer party.
Words by Chris Leggett
Photography by Mike Turnham & Alasdair Round
JFB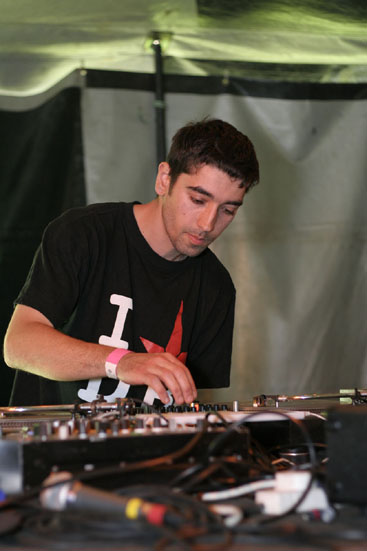 Mike Fielding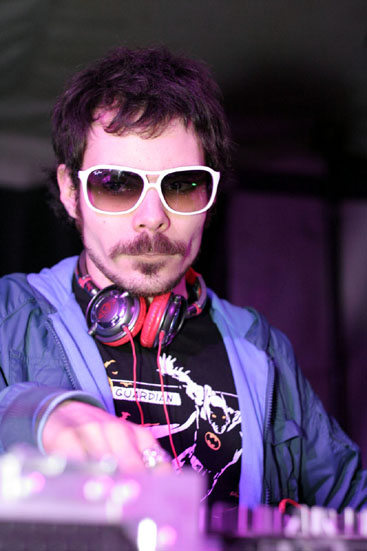 Kissy Sellout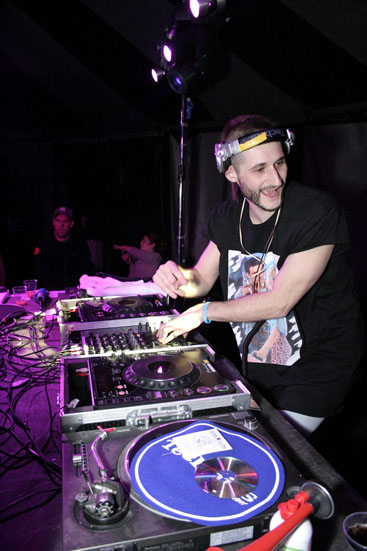 www.myspace.com/peggysueandthepirates
www.myspace.com/drookitdogs
www.myspace.com/darkcaptain
www.myspace.com/djhatcha
www.myspace.com/blame720
http://www.myspace.com/djntype
www.myspace.com/denoisia
/www.myspace.com/andyramrec
You Guys: