Victoria Gardens, 16th August
The second Loop festival aimed to bring cutting-edge music and digital art right to heart of the Brighton. With the aid of two impressive stages, Loop turned an otherwise plain bit of grass into such a fun festival atmosphere that it hard to believe that you're only ten minutes from home.
Early in the day, Turbowolf played an energetic, electronically-peppered rock set that, through no lack of effort, failed to get the not-yet lubed crowd involved. On listening to their Myspace, it's a shame that their live sound suffered from a lack of bass and they didn't have a later time slot.
Aside from the main stages on Victoria Gardens, Loop also had a further two stages in the college situated immediately across the road. After a brief sit down and the first beer of the day, it was time to nip over and check them out. Hereldeduke were present on the Outer Limits stage based in the courtyard garden and played to a relaxed (i.e. sat down) yet appreciative crowd. 'Shudder', a catchy tune familiar through its inclusion on Loop Radio, did a good job of prompting movement from parts of the crowd. On the Limits stage (based in the Sallis Benney Theatre), drummer Seb Rochford and Theramin virtuoso Pamelia Kursten created largely improvised soundscapes to a perfectly-suited dark room. Playing the Theramin with the finesse of a harp player and with aid of a loop peddle, Pamelia layered-up basslines and melodies while Seb teased sounds out of his drum kit. The long drawn out build-up proved beyond a doubt that the Theramin as an instrument goes way beyond its outdated stereotype.
Back over at the main stage it was time to briefly make fun of the '80s styling of Cagedbaby before realising it was really quite good. Having manoeuvred near the front it was obvious they have taken (excusing the outfits and mullet) good influences from '80s pop, such as synth-driven tunes and cheesy yet suited female backing vocals. After much debate these elements, nicely combined with modern techniques and equipment, could only be described as bass-heavy electrohousebreaks.
Played on three large screens above the stage, Warp Films was all the weirdness you'd expect and hope for. The realistic and graphic stop-motion disembowelment of a hand-gliding cuddly toy being a perfect example. Made all sickening for watched while munching a ketchup smothered hot dog. Afterwards it was time to bounce back to the main Hub stage for the start of a unique set by a truly unique band. The Bays never rehearse and never record, instead they go onstage and improvise in a non-stop live performance that's more akin to a DJ mix than a band show. Although by all accounts not their best, The Bays produced an awesome show that constantly flowed through various dance styles. Based around a live bass and drum section, Jamie Odell and Simon Richmond played with all manner of keyboards, samplers and guitar pedals in an amazing display (from all four members) of technical and improvisational ability. The question of "Do they ever go Drum & Bass?' was answered with style in the last ten minutes. If nothing else they are surely a band worth seeing at one of their own gigs where they have time to fully explore their many musical avenues.
Cut Copy were perhaps the biggest disappoint of the evening being a group with nothing, as it turns out, but a familiar and mildly cool sounding name. Compared to the numerous artists on the bill who have integrated electronics so interestingly into their style it was a shame to see then playing non-descript indie that is so depressingly common these days.
Undoubtedly one of the most talented electronic composers around, Four Tet played a deep set that for the most part kept the Hub crowd dancing. Garnished as always with the samples, twinkles and bleeps that made Four Tet's sets and tunes so interesting and unpredictable. After a rapturously-received spin through 'Spirit Fingers' the set was over all too quickly.
While the stage was rearranged for headliners New Young Pony Club, Skint label boss Midfield General took to the decks to play an electro house set that remained heavy throughout. Although adequate to keep the crowd happy and dancing it seemed a shame to not hear the slightest nod to any 'Generalisation'-era big beat that first brought him to prominence.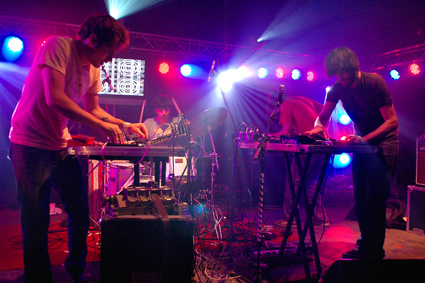 Remaining decidedly band-oriented, Holy Fuck fused everything from dance to rock, churned up into one brilliant musical mess to be hurled at the packed, receptive and by this point suitably lubricated crowd. Flitting between all sorts of equipment onstage, Brian Borcherdt and Graham Walsh provided the driving force over a solid live backing of bass and drums. Borcerdt's distorted vocals, screamed through a mic held in his mouth, perfectly topped off the controlled frenzy that was the sound of Holy Fuck. With their embracing of all things electronic without ever forgetting that they're a band, Holy Fuck sum up the live, digital ethos of Loop to a tee. Having never heard their music before and based on this performance it was very easy to see why they were chosen to headline the stage named, rather aptly, 'Futures'.
With the main Victoria Gardens festival finished by 10pm, it was time to head out to the Coalition, Komedia and Ocean Rooms for LOOP Late but that, well that's another story entirely…
Words by Chris Leggett
Photographs by David Tatnell