Audio 6th October 2008
Having been touted as  "ones to watch for 2008" for some time now, Friendly Fires might feel they have a lot to lose. Having just released their debut album, and being about as hotly tipped as a cow brand, it seems that the only way they can go is up. With this in mind it was understandable that anything less than a blinder of a show would leave this crowd disappointed.
While all songs are collectively a band effort, it's Ed Macfarlane, the band's singer and frontman who took centre stage for the gig's duration. Dancing and jumping as if to make up for the crowd's initial lack of enthusiasm, he exudes an enticingly energetic arrogance. By the third song of their set, "In the Hospital" the band had reached their stride and had the audience, albeit rather timidly at first, involved. With the inclusion of a few oversized party poppers and Macfarlane regularly straddling his monitor and gyrating his hips in perfect eye level of the ever-eager crowd, being one of the coolest things in music was made to look as easy as drunk dancing at a wedding.
Friendly Fires were at their best when utilizing the range of cowbells and percussion they had up on stage, especially in their two biggest hits, most recent single "Jump in the Pool" and "Paris". The latter of the two was a crowd pleaser of the highest degree and would've proved a perfect way to close the set had they not followed it with one final song. Climaxing in Macfarlane again mounting his monitor, there was every chance that if it wasn't for the roof above him, he may have just been able to keep on climbing.
Although watching guitarist Edd Gibson attack his instrument with a Dustbuster on closer "Ex Lover" will remain in my memory for some time, it was just one song past being short and sweet. The gig's conclusion arrived just a little bit too late, but with a build up this good, who the hell cares?
Words by Dave Drummond
Photography by Rob Thomas
What did you think of the gig ?
Ellie, Nikki, Charlotte – Students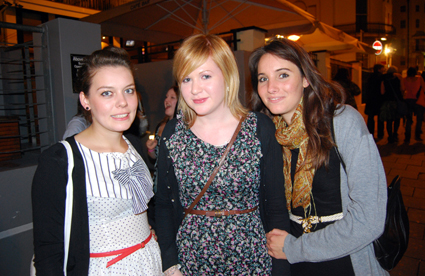 Ellie: "It was ok. It's not really my sort of thing though. It's just pop music being played for the indie masses really."
Charlotte: "I liked the cowbells."
Tom, Elliot, Matt, James – Students/Musicians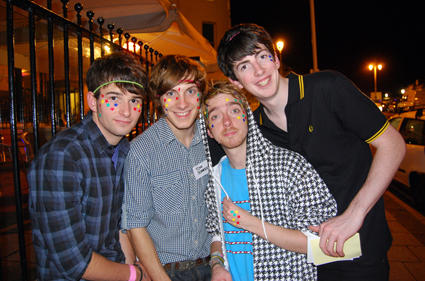 Tom: "It was sick. Although not as many people were getting into as they should have been."
Matt: "They should have ended on "Paris" instead of playing their last song though."
Matt, Josh, Bob, Craig – Property Managers/Student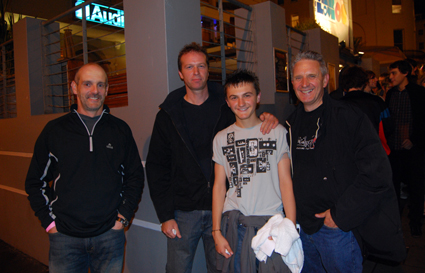 Matt: "It was excellent, they were very good. The lead man has got something about him; you can't help but be transfixed."
Craig: "I'd say mercurial talent. It's the third time we've seen them, we came all the way from Tunbridge Wells."